Coming from Asus, our expectations for this large copper heatsink are mixed the moment it comes out of the box... sometimes motherboard manufacturers should just stick to what they do best, motherboards.
The Asus Star Ice is the companies first venture into the realm of commercial heatsinks, and it certainly captures attention for its appearance. Looking vaguely like a jet engine, the top of the Star Ice is decorated with a clear plastic window with a big bright ASUS logo illuminated by two small blue LED's. Hidden behind the outwardly aerodynamic appearance is a stacked array of many copper fins, pierced in six places by three copper heatpipes which connect to a thin copper base.
The Asus Star Ice heatsink comes in a couple different colour variations (blue, red, green) and is fitted to accept an additional 80mm exhaust fan at its rear, though one is not included. Its universal retention mechanisms make it technically capable of being used with socket 462, 478, LGA775, and 754/939/940 processors. Although, I would be hesitant to install it on an AthlonXP CPU given the 680gram weight of the cooler. That weight far surpasses AMD's guidelines for K7.
The sleek outward appearance is all well and good, but we're a little more interested in how the Asus Star Ice handles its task as a processor heatsink, and how easy it is to install. From the outset, users will probably find the retention mechanisms rather complicated, and the illustrations in the instructions too small to be clear. Since the Asus Star Ice is based on the same frame as the Thermaltake SilentTower, it shares much of the same accessories too; a 3.5" and PCI slot fan speed controller, thermistor, and clumsy mounting plates and hardware.
ASUS Star Ice Heatsink

---

heatsink specsheet
manufacturer: asus
model no.: star ice
materials: copper fins and base, copper heatpipes
fan mfg: n/a
fan spec: 1500-4500rpm, 12v
fan dim: 25x80x80mm
heatsink & fan dim: 143x118x115mm
weight: est. 680 grams
includes: assorted mounting brackets, screws, two fan speed controllers, thermal compound, kapton encapsulated thermistor, wrench.

---

Compatible with Sockets: 462/478/775/754/939/940
Est. Pricing: $26USD ($29CDN)
Before we get into the concerns of whether or not the bulky plastic housing of this Asus heatsink creates hot-spots for warm air to pool, and we believe it does, it's worth touching on few other aspects of this cooling kit.
The Asus Star Ice heatsink comes with several sets of upper and lower PCB back plates. Different sets are used depending on which type of processor the heatsink is going to be installed on. To be frank, a heatsink this large should not be used with AthlonXP CPUs, though heat spreader capped processors are well suited. For K7 CPUs, only K7 motherboards with the four heatsink mounting holes would be compatible.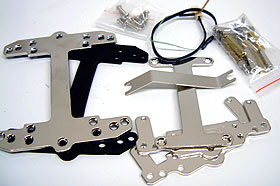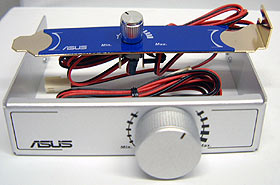 The clipping mechanism slides into a recess in the top of the copper base plate, and then varying combinations of screws are used to affix it to the appropriate back plate. The whole process can quickly become unwieldy, so consult the instructions included along with the heatsink before you even begin.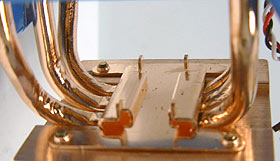 Only one of the two fan controllers need be used, and by installing the thermistor users can direct the Asus Star Ice to react to temperature input and adjust its speed appropriately. Without the fan controller, the fan spins fast and very loudly. Unfortunately as you'll soon see, the trade off is either 67 dBA noise or very poor temperatures if the fan speed is dialed all the way down.
FrostyTech's K8 Test Methodology is outlined in detail here if you care to know what equipment is used, and the parameters under which the tests are conducted. Now let's move forward and take a closer look at this heatsink, its acoustic characteristics, and of course it performance in the thermal tests!