The Noctua NH-U9 heatsink is the product of collaboration Rascom GmbH and Taiwanese manufacturer Kolink International Corp. Under the brand Noctua, the companies have released a set of heatsinks optimized for use with quiet fans, without restricting the underlying thermal performance of the heatsink. The Noctua NH-U9 is a 128mm tall heatsink whose aluminum fins are studded with four copper heatpipes. The NH-U9 comes with all the necessary mounting hardware you'll need for Intel or AMD processors, but no fans are included. Mounting clips will allow users to install a 92mm or 80mm fan on either side of the unit if they desire, but we found a single fan more than sufficient for the task at hand. The 38 nickel-plated aluminum cooling fins are connected by four copper heat pipes to a copper base plate that pushes the overall weight to 570grams.
The Noctua NH-U9 is a little bulky for smaller cases, so we'd suggest measuring first to ensure clearance. All joints between the copper heat pipes and base are soldered for the lowest possible thermal resistance, however RoHS compliance is not stated per 2002/95/EU.
Noctua NH-U9 Heatsink

---

heatsink specsheet
manufacturer: noctua
model no.: nh-u9
materials: nickel plated aluminum fins, copper heat pipes, copper base plate
fan mfg: n/a
fan spec: n/a
fan dim: accepts 92x92x25, 80x80x35mm fans
heatsink & fan dim: 128x95x70mm
weight: 570 grams
includes: assorted mounting brackets, hardware, screws, pcb support plates, fan clips, printed instructions, thermal compound.

---

Compatible with Sockets: 478/775/754/939/940
Est. Pricing: $31USD ($36CDN)
MOUNTING KIT UPGRADEABLE TO SUPPORT AMD SOCKET AM4?

Manufacturer Provided Mounting Kit Required to Support AMD Socket AM4 Motherboards? YES

Manufacturer AM4 Kit Request Form Link:
https://noctua.at/en/nm-am4-mounting-kit-order-form

Noctua state: "Owners of Noctua CPU coolers can obtain the Noctua NM-AM4 SecuFirm2 Mounting-Kit free of charge via this form. A proof of purchase (electronic version, photo or scan of the invoice) of both a Noctua CPU cooler and either a socket AM4 mainboard or socket AM4 CPU are required. There is a dedicated upgrade kit (NM-AM4-UxS) available for NH-U14S, NH-U12S and NH-U9S"

For more details, heatsink exceptions and a complete list of incompatible coolers, see here.


Noctua NM-AM4 SecuFirm2 Mounting-Kit supported on following Noctua heatsinks Frostytech has tested: NH-C12P , NH-C14 , NH-D14 , NH-D15 , NH-D9L, NH-L12, NH-L9x65, NH-U12 , NH-U12P , NH-U9, NH-U9B . Noctua NM-AM4-UxS Mounting-Kit: NH-U14S, NH-U12S and NH-U9S.
The Noctua NH-U9 comes with a variety of brackets for installing the heatsink onto different processor sockets, but the gist is that a set of plates are screwed into the copper base, the backplate positioned behind the motherboard, then everything is screwed down onto the CPU.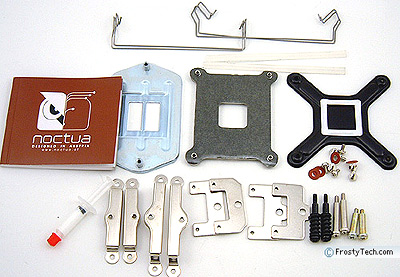 The fan is the last component to be attached, and because Noctua sell the NH-U9 without one, you'll need to source out a 90mm or 80mm fan of your own. If you try and install the heatsink with the fan in place you'll quickly discover that it blocks the screws for the heatsink mounting hardware... which makes the whole process a little annoying if the computer case is tight.
The Noctua NH-U9 is being tested on an AMD Athlon64 K8 compatible synthetic temperature test platform in this review. We picked out the necessary brackets with the aide of the multi-language manual, and set about the installation task in the course of a few minutes.
Getting the large Noctua NH-U9 into position on the CPU die and affixed with the spring-tensioned screws wasn't too difficult. It was just a matter of attaching the clear rubber anti-vibration strips to the back vertical edges of a 92mm fan and locking that into place with the included wire clips.

The important bit is to stick on the anti-vibration strips to the rear of the fan first, or you'll quickly find yourself repeating steps. Leaving the strips out is not advisable unless you like the sound of rattling metal bits. The fan is oriented such that air blows through the fins of the Noctua NH-U9 heatsink, so hot air should be blowing towards the rear or top of an actual PC case.
Retroactive Socket 1366 Intel Core i7 Processor Compatibility
One of the nice aspects of this heatsink is that Noctua has released a new mounting kit to make it compatible with Intel's Core i7 socket 1366 processor! The Noctua SecuFirm2 mounting kit works with any Noctua CPU heatsink going back to 2005, and best of all it's available for free from Noctua's website. Socket 1366 processors use slightly wider spaced motherboard mounting holes for heatsinks to attach to - 80mm vs. 72mm for LGA775 chips - so existing socket 775 brackets are not compatible with this new Intel CPU in spite of the fact the heatsink is probably still well suited.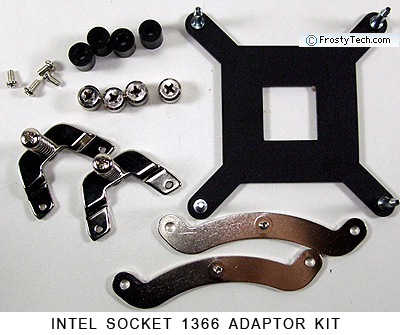 The Noctua SecuFirm2 bracket (shown above) uses spring tensioned screws to securely mount the Noctua heatsink on the new Core i7 processors, and ensures optimal contact pressure thanks to identical Z-height between LGA775 and LGA1366 CPU formfactors. Frostytech will be testing this Noctua heatsink shortly to see how it performs with socket 1366 processor thermal demands... stay tuned!
FrostyTech's K8 Test Methodology is outlined in detail here if you care to know what equipment is used, and the parameters under which the tests are conducted. Now let's move forward and take a closer look at this heatsink, its acoustic characteristics, and of course it performance in the thermal tests!