Coolermaster's Hyper48 heatsink is a little older among the list of K8 / Pentium 4 compatible coolers on the market now, but it's still a contender. The KHC-L91 Hyper48 comes with a collection of brackets and mounting plates which enable its use on socket 478/775 Intel Pentium 4 and socket 754/939/940 AMD Athlon64 processors. That level of flexibility is great for users who are on one CPU platform right now, but looking to switch to a different CPU vendor in the near future. We should note that AMD's Socket-AM2 is not compatible with this heatsink.
The Coolermaster Hyper48's all copper construction is augmented by four copper heatpipes that advance the flow of heat out from the base to the upper tips of the cooling fins. As we will see shortly in the synthetic thermal test results, the heatpipes play an important role.
Really though, the most notable benefit of the Coolermaster Hyper48 heatsink is its quietness. The low noise output is due to a specialized Delta fan which has side vents and a conservative impeller speed. The 92x92x25mm Delta NFB0912L fan moves 42CFM of air whilst generating just 29.1 dBA noise, according to the mfgr's spec sheet. Curiously though, Coolermaster have listed a fan speed of 1400RPM while Delta quote a 2100RPM value.... in either case the KHC-L91 heatsink operates quietly in the real world. Our ears can appreciate that.
Coolermaster KHC-L91 Hyper48 Heatsink

---

heatsink specsheet
manufacturer: coolermaster
model no.: hyper48 khc-l91
materials: copper fins, base and heatpipes.
fan mfg: delta electronics nfb0912l
fan spec: 1400rpm, 12v, 0.17a
fan dim: 25x92x92mm
heatsink & fan dim: 105x94x70mm
weight: 864 grams
includes: multi-socket back plates, k8 hsrm, mounting hardware and clips, thermal compound

---

Compatible with Sockets: 478/775/754/939/940
Est. Pricing: $28USD ($32CDN)
The Coolermaster Hyper48 heatsink is flexible when it comes to the different CPU heatsink retention methods of AMD and Intel. When it comes to LGA775 Pentium 4 CPUs a special bracket screws into the copper base of the heatsink which makes it possible mount the unit onto these kinds of motherboards.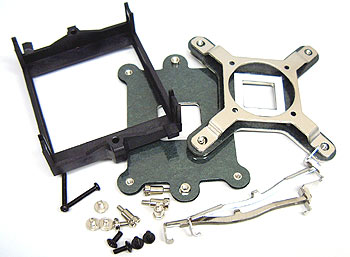 The other CPU types rely upon a hybrid K8/P4 heatsink retention frame. Given that we're dealing with a 864 gram copper heatsink, whatever method applies to your computer it's important that the Coolermaster Hyper48 stay firmly in place once installed!
The heatsinks' four copper heatpipes run along the upper side of the copper base, and then intersect the copper fins at the top right where cold air from the fan enters. To ensure a good thermal interface with as little thermal resistance between the joints as possible, the two sections of copper fin and heatpipe are soldered together.
FrostyTech's new Test Methodology is outlined in detail here if you care to know what equipment is used, and the parameters under which the tests are conducted. Now let's move forward and take a closer look at this Coolermaster heatsink, its acoustic characteristics, and of course it performance in the FrostyTech synthetic thermal tests!