Elektronik Kuhlsysteme Leutkirch GmBH (EKL AG) is a ISO9001 thermal solutions company out of Leutkirch Germany that has specialized primarily in manufacturing OEM heatsinks for the European market since 1995. The company is attempting to make some in-roads into the enthusiast lower-noise market with its EKL V8 heatsink, a massive cooler reminiscent of a V8-engine.
The 108mm fan on the EKL V8 heatsink utilizes and Intel-style 4-pin PWM fan power connector. Three separate sets of blue LED strips that illuminate the heatsinks clear plastic casing are powered via an additional Molex connector. The plastic casing wraps around the entire heatsink rather loosely, and ducts airflow over the V8's three independent sets of stacked aluminum fins. The fins are connected to a hefty copper base via four heatpipes. Virtually every surface of the cooler is nickel plated, so oxidation shouldn't be an issue between all the aluminum and copper portions.
As we examine the EKL V8 heatsink more closely it will be with the intent of determining just how well it handles the heat when low noise levels are maintained. After all, there are plenty of high-powered heatsinks in the stores to choose from, yet when it comes to finding a new heatsink for your computer to quiet it down the choices are more difficult.
| | |
| --- | --- |
| EKL V8 Heatsink | |

HEATSINK SPECSHEET
Manufacturer: EKL
Model No.: V8
Materials: stacked aluminum fins, copper heat pipes, nickel plated copper base.
Fan Mfg: Everflow F129025DL
Fan Spec: 500-2200RPM, 12V, 0.13A
Fan Dim: 110X110X25mm
Heatsink & Fan Dim: 117x158x134mm
Weight: 500 grams (est.)
Includes: Fan controller, multi-socket mounting hardware, thermal compound.

---

Compatible with Sockets: 478/775/754/939/940
Est. Pricing: $28USD ($30CDN)
The V8 heatsink ships in an equally large box which includes a full set of mounting clips and brackets for AMD Athlon64 (sockets 754/939/940) and Intel Pentium 4 processors (sockets 478/775). The EKL V8 heatsink comes with a simple fan speed controller that mounts to a free 3.5" FDD bay or rear PCI slot using either of the included brackets.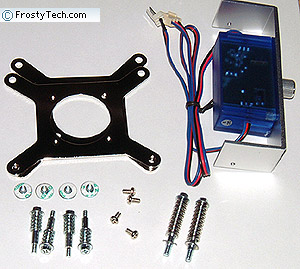 What makes the EKL V8 a good candidate for a lower-noise cooling is its large 110mm fan, and the arrangement of its cooling surfaces. The shape and orientation of its stacked aluminum fins work well with natural thermal convection, so only a limited volume of airflow is needed when its fan is operating at its most quiet. At least, that's the idea.... we'll develop a firmer idea of how the EKL V8 handles 125W of heat in moment.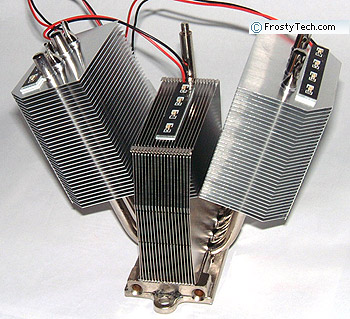 The foundation of the V8 heatsink is a hefty copper base to which all components are soldered. The four 6mm diameter heatpipes are soldered in place and radiate heat outwards to the 'V' positioned cooling fins. On the top of each fin section is a small circuit board with four low-profile blue LEDs. These illuminate the translucent case which slides over top of the cooler. The shroud is held loosely in place by two posts which catch the front of the copper base, and by one post at the rear. The fan shroud on the EKL V8 heatsink is pretty flimsily attached to be frank.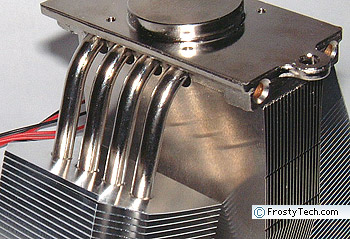 FrostyTech's new Test Methodology is outlined in detail here if you care to know what equipment is used, and the parameters under which the tests are conducted. Now let's move forward and take a closer look at this heatsink, its acoustic characteristics, and of course it performance in the thermal tests!