There are heatsinks made for low noise computing, for overclocking, and then there are those built at an affordable price point which try to do both. The Vantec Mach 1 heatsink is such a heatsink; it's inexpensive and includes a sliding fan speed controller which adjusts the fan from 2800-to-3800RPM.
The Vantec Mach 1 heatsink is compatible with sockets 478/754/939/940 thanks to a retention frame that accomodates both AMD Athlon64 and Intel Pentium 4 heatsink mounting spaces. A metal PCB-stiffener plate for K8 applications, thermal paste, and printed instructions round out the package contents.
The 515 gram Vantec MP4-7015-FC Mach 1 heatsink utilizes a 70mm fan that generates anywhere between 48-57 dBA noise, depending on the manually set fan speed. This level of control allows the user to determine the level of performance they want from the heatsink, so long as one is willing to reach around to the rear of the PC and adjust the sliding potentiometer each time.
Vantec Mach 1 Heatsink

---

heatsink specsheet
manufacturer: vantec
model no.: mp4-7015-fc "Mach 1"
Materials: Stacked copper fins, heatpipes, copper base plate and extruded aluminum

Fan Mfg: N/A

Fan Spec: 2800-3800RPM, 12V, 0.25A
Fan Dim: 15x70x70mm
Heatsink & Fan Dim: 83x70x85mm
Weight: 515 grams
Includes: fan speed controller, thermal compound, mounting bracket

---

Compatible with Sockets: 478/754/939/940
Est. Pricing: $22USD ($24CDN)
The hybrid heatsink bracket accomodates both Intel and AMD K8 processors in one package. The mounting clips apply force at the edges of the heatsink, which has a rather thin 4mm thick base plate.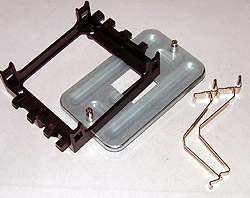 FrostyTech's Test Methodology is outlined in detail here if you would like to know about the parameters under which this heatsink will be evaluated. Now let's take a closer look at the Vantec Mach 1 heatsink, its acoustic characteristics, and thermal test results!