Abstract: To put the GFD's on you need to remove the plastic cover. This method involes a freezer, and takes a few moment to do, leaving no mess or small bits of plastic.


Athlon Cracking
---
To overclock your Athlon you need to crack it open. If you don't crack it open, you don't get to play with the golden fingers. Everyone wants to play with the golden fingers, and there are quite a few variations on how to open the Slot A package to get at the goods. So indulge just one more description on the 'best' way to do this little procedure - dremels are tempting but this is sooo much easier. I tried removing cases once before with an unlucky PII-233, and can at least say this method is much, much, simpler to. So here it goes:
Tools:

Screw Driver (I like the Torque Master pictured here from Canadian Tire ;-)
One Freezer
Small pliers / screwdriver

12 Steps:

Okay so only two of these tools are needed for this particular method of cracking the Athlon open. The first step is to put the Athlon into the freezer for a few minutes. This does two things, first it stiffens up the plastic and makes it a bit more brittle then it would be a room temperature, and secondly, it minutely causes the small metal pins to decrease in diameter, enabling them to separate from the plastic slightly easier.

Remove the Athlon from the freezer, and hold it with a towel so the warmth of your hands does not cause it to increase in temperature right away. Take a flat ended screw driver and wedge it in between the plastic and the aluminum heatspreader. This may take a few tries to get right, as the force will make it will want to pop out. Only the very tip of the screw driver should be inserted, and only far enough so as not to come close to the PCB.

Once it is in the space work the edge of the screwdriver over towards the middle of that side of the cartridge and then angle the screwdriver so it's near parallel to the processor. Next rotate the screwdriver 90 degrees. The effect of the screwdriver being rotated will force the plastic away from the aluminum and pop out two of the metal pins from the plastic which hold the cover on. It works best if you do the turning part quickly to overstress the joint and ensure quick separation.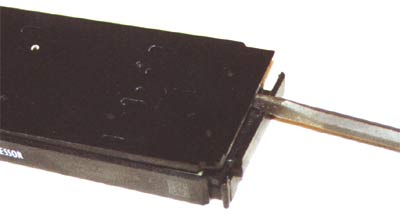 With one side of the plastic cover popped off its time to put the Athlon back into the freezer for a few minutes to allow it to cool again. When removed, the same process should be used on the opposite side to remove the last two pins holding the processor and heatspreader to the plastic cover. I found the second set a bit more difficult to remove, but after two or three attempts the plastic popped off easily.

Websites you may also like:
PCSTATS