The Arctic Cooling Freezer 64 Pro is a novel lower-noise AMD Athlon64 heatsink for socket 754, 939, and 940 processors. It replaces the AC Freezer 64 heatsink which came before it, and improves on the design slightly. This new cooler has three heatpipes where there were only two, and a more fully enclosed fan than the previous free-floating version had.
The Freezer 64 Pro suspends its 2200RPM fan on four dualaxial rubber vibration absorbing posts. The general idea of which is to prevent any motor vibrations from transferring to other areas of the chassis which might create noise. The 92mm fan itself is pretty unique in that the design minimizes turbulence and noise created by air moving over the edges of the frame.
Arctic Cooling's heatsink is constructed from a simple mix of three "U" shaped heatpipes and 42 stacked aluminum fins. A small square copper base is soldered to the three heatpipes (which run directly through it) at the base, and this helps to create a short thermal path from the CPU to the fins. Curiously though, the heatsinks' copper base is a little smaller than the 37.5 x 37.5mm IHS of K8-series processors. The whole package weighs 528 grams.
Arctic Cooling Freezer 64 Pro Heatsink

---

heatsink specsheet
manufacturer: arctic cooling
model no.: freezer 64 pro
materials: copper base, (3) copper heatpipes and stacked aluminum fins.

fan mfg: n/a

fan spec: 300-2200rpm, 12v, 0.20a
fan dim: 43x107x96mm
heatsink & fan dim: 116x95x104mm
weight: 528 grams
includes: pre-applied thermal compound, mounting instructions.

---

Compatible with Sockets: 754/939/940
Est. Pricing: $34USD ($38CDN)
As a token measure to cooling adjacent voltage converters near the AMD K8 CPU socket, the bottom three aluminum fins of the Freezer 64 Pro heatsink are shaped to direct exhaust airflow in the direction of the motherboard. At full speed the fan on the Arctic Cooling Freezer 64 Pro heatsink moves about 40CFM air, according to the companies specs. Thus, the effect of these two small fins, of which about 1/3 is blocked by the fan's support frame, is going to be fairly conservative at best.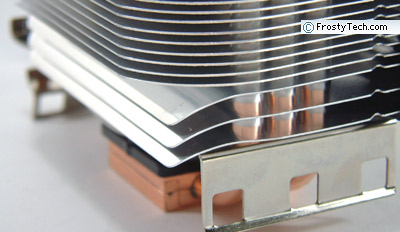 Vibration Isolation and Long Term Reliability?
One of the novel features of the Arctic Cooling Freezer 64 Pro heatsink is how the fan is attached to the heatsink. Traditionally, fans are clipped or screwed firmly into place to prevent rattling sounds from becoming an annoyance.
Some companies have also used rubber fixtures to hold the fan in place. Doing so reduces errant noises and at the same time the rubber fixture absorbs or dampens some of the vibrations which are inevitably caused by minor imbalances in the motor.
Arctic Cooling have taken the rubber fan mount concept one step further by using two independent vibration dampening rubber components to seamlessly hold the fan in place, and diminish vibration transmission to the rest of the heatsink, CPU, and chassis. Arctic Cooling's 'dualaxial' rubber post holds the lightweight Arctic Cooling fan in position, in both axis.
It's an interesting approach to multi-axis vibration reduction, but it brings up a couple concerns...
Rubber can dry out and crack, become rigid with exposure to certain chemicals, heat, sustained tension or UV light. This posses problems for a heatsink which is reliant upon its fan being held in position by four somewhat thin rubber supports. The Arctic Cooling Freezer 64 Pro heatsink is warrantied for 6 years, but will its four dualaxial rubber posts hold up for that long?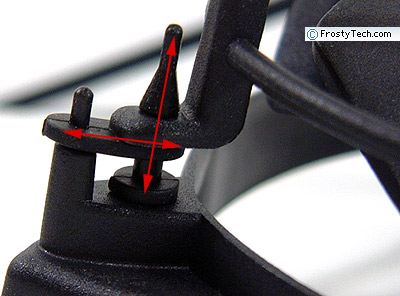 How will the rubber hold up against the constant heating and cooling cycles inside a PC chassis? Will ultraviolet (UV) light from certain black light cold cathode systems degrade the material? To be frank, we don't know.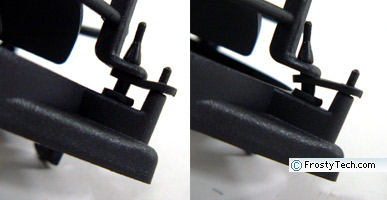 Furthermore, the rubber fixtures really only restrain the fan lightly at best. Users should take care when installing the Arctic Cooling Freezer 64 Pro heatsink so as not to inadvertently knock the fan off of its supports. This could be mitigated a little better if the plastic mounting post was barbed, instead of just a straight pin.
Orientation Critical to Optimal Temperatures?
The printed instructions that come with the Arctic Cooling Freezer 64 Pro heatsink make a point of specifying that the heatsink should always be oriented such that the fan blows from front to back, ie. the three heatpipes are in an over-under position.
To facilitate this given the various ways that socket 754/939/940 AMD Athlon64 motherboards are layed out, the retention clip on the heatsink is adjustable. On top of the 33.5 x 36mm copper base plate, which incidentally is undersized for AMD's 37.5 x 37.5mm K8-class integrated heat spreader (IHS), is a black plastic cap with four small posts.
These posts are keyed into the stainless steel retention clip, and ensure that the load forces are properly centered on the undersized copper base plate. There's nothing worse for a heatsink than for it to be mounted with uneven force onto a CPU.

FrostyTech's Test Methodology is outlined in detail here if you would like to know about the parameters under which this heatsink will be evaluated. Now let's take a closer look at the Arctic Cooling Freezer 64 Pro heatsink, its acoustic characteristics, and thermal test results!