Arctic Cooling are a Swiss company headquartered in Pfäffikon, the company produces low noise cooling and case systems. The Arctic Cooling Silencer 64 Ultra TC heatsink is a mid-level extruded aluminum cooler, and it features the companies signature suspended lower noise fan. The fan design minimizes turbulence and the noise created by air moving over the edges of a traditional fan frame, by removing as much of the fans' frame as possible.
The heatsink is constructed from a simple aluminum extrusion, and aside from the rather odd-looking low noise fan is pretty straightforward. The fan is controlled by an embedded thermistor to control its noise output. The Arctic Cooling Silencer 64 Ultra TC works with all existing socket 754/939/940 AMD Athlon64 processors, and because it lacks any copper components, is a light 448 grams. The fan adjusts its speed from 1000-2500 RPM depending on the temperature read by the thermistor which is lodged between the aluminum fins of the heatsink.
Arctic Cooling Silencer 64 Ultra TC Heatsink

---

heatsink specsheet
manufacturer: arctic cooling
model no.: silencer 64 ultra tc
materials: extruded aluminum

fan mfg: n/a

fan spec: 1000-2500rpm, 12v, 0.20a
fan dim: 42x92x92mm
heatsink & fan dim: 74x93x93mm
weight: 448 grams
includes: thermal compound, screws, k8 heatsink mounting bracket

---

Compatible with Sockets: 754/939/940
Est. Pricing: $24USD ($27CDN)
The thermistor enables the fan to thermally throttle its speed based on the temperature feedback. This kind of passive control limits some of the noise from the Arctic Cooling fan, but allows that extra kick to be delivered when necessary.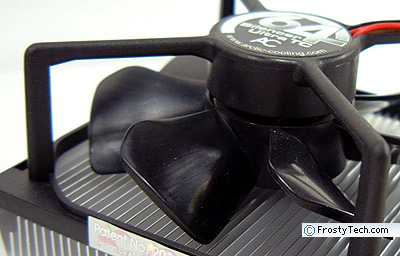 The mounting clips are tool free, and unlike most K8 implementations are also separate. Each side needs to be locked into place for the Silencer 64 Ultra TC heatsink to be properly installed. FrostyTech's Test Methodology is outlined in detail here if you would like to know about the parameters under which this heatsink will be evaluated. Now let's take a closer look at the Arctic Cooling Silencer 64 Ultra TC heatsink, its acoustic characteristics, and thermal test results!