Essentially identical to the Venus 12 heatsink, the Thermaltake Polo735 offers up a broader variety of compatible sockets along with the high-powered fan and fan speed controllers. The heatsink is completely made of copper fin and baseplate components, and utilizes 2000-5500RPM Everflow fan which moves upwards of 26-72CFM depending on its speed. The 732 gram heatsink is heavy, so care should be taken when installing it onto the processor; be that AMD Athlon64, AthlonXP or Intel Pentium 4.
The Thermaltake Polo735 heatsink comes with two different fan speed controllers, one on a PCI slot bracket and the other in a silver aluminum 3.5" drive bay bracket. Both fan speed controllers have the same effect when plugged into the Polo735's fan. Their use is not mandatory, and the controllers can be unplugged from the fan. As with most of Thermaltake's offerings, the model A2144 "Polo735" is relatively affordable.
Thermaltake Polo735 Heatsink

---

heatsink specsheet
manufacturer: thermaltake
model no.: a2144 "Polo735"
Materials: Stacked copper fins soldered to copper base

Fan Mfg: Everflow R128032BU-T

Fan Spec: 2000-5500RPM, 12V, 0.45A
Fan Dim: 32x80x80mm
Heatsink & Fan Dim: 93x80x87mm
Weight: 732 grams
Includes: thermistor, (2) fan speed controllers, thermal compound, screws, assorted mounting brackets

---

Compatible with Sockets: 462/478/754/939/940
Est. Pricing: $32USD ($37CDN)
A bundle of wires exit from the large 80x32mm Everflow fan that sits on top of the blue Polo735, half of which are for controlling it. Due to the fans' high-power requirements, a molex connector is used instead of the standard 3-pin motherboard jack.

The heatsink package also includes a low-profile Kapton encapsulated thermistor.
The remote thermistor enables the fan to thermally throttle its speed based on the temperature feedback from wherever the 12" long sensor is positioned. This kind of passive control limits some of the noise output created by the Polo735's high-powered fan, while delivering that extra kick when temperatures rise.
Thermaltake have bundled in two separate fan speed controller potentiometers, with brackets for front and rear computer mounting. The mounting clips generally require a screwdriver to install, or the removal of the blue fan shroud so that the K8/P4 or K7 clip can be inserted between the copper fins. Illustrated instructions detail each separate installation procedure.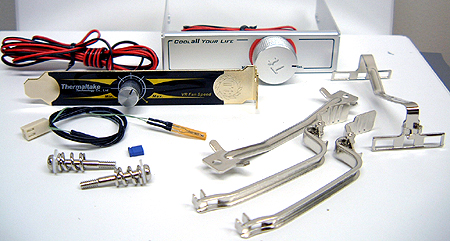 FrostyTech's Test Methodology is outlined in detail here if you would like to know about the parameters under which this heatsink will be evaluated. Now let's take a closer look at the Thermaltake Polo735 heatsink, its acoustic characteristics, and thermal test results!