The Gigabyte Neon Cooler 8-BL is one of small series of mainstream heatsinks manufactured by Gigabyte, and differs from the Neon Cooler 8-Pro version only by its lack of a separate fan speed controller. The Neon Cooler 8-BL (GH-ED821-LC) heatsink is an aluminum extrusion design, and it incorporates an inlaid circular copper base. The copper pad is set into a machined recess in the aluminum base and helps to transfer heat energy from an AMD Athlon64 processor's IHS to the surrounding heatsink more efficiently. T6-6063 Aluminum has a thermal conductivity of 193 W/mK, whereas copper is much more thermally conductive at 398 w/mK. Inserting a copper base plate is a well known means of dealing with the high heat loads of late model CPUs on extruded aluminum heatsinks.
The Gigabyte Neon Cooler 8-BL is rated for all current socket 939 AMD Athlon64 processors, but users should be aware that this is by no means a 'performance heatsink.' As FrostyTech will illustrate in a moment, cooling performance is squarely in the mainstream zone. The Neon Cooler 8-BL could also be used with socket 754 AMD processors, although socket 940 Opteron applications would not be recommended. The Gigabyte Neon Cooler 8-BL is priced around $21USD ($26CDN).
Gigabyte Neon Cooler 8-BL Heatsink

---

heatsink specsheet
manufacturer: gigabyte
model no.: gh-ed821-lc "Neon Cooler 8-BL"
Materials: Extruded aluminum, copper base insert.
Fan Mfg: Everflow F128025DL
Fan Spec: 2000RPM, 12V, 0.10A
Fan Dim: 25x94x94mm
Heatsink & Fan Dim: 68x81x94mm
Weight: 450 grams
Includes: thermal paste, instructions

---

Compatible with Sockets: 754/939/940
Est. Pricing: $21USD ($26CDN)
The extrusion shape is somewhat interesting on the Gigabyte Neon Cooler 8-BL heatsink. Rather than a flat top with vertical fins, its fins are all angled away from the center of the heatsink, and there is a small recess just below the fan.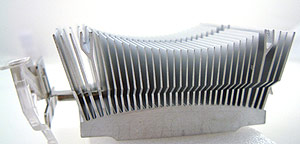 This concave recess is generally used to prevent hot-spots from occuring just below the fan's motor. Conversely, the base is convex in shape; presumably to improve the absorption and transfer of the heat energy from the K8 CPUs' integrated heat spreader out towards the fins.
The fan on the Gigabyte Neon Cooler 8-BL is flashy for a mainstream heatsink, yet fairly quiet in operation. According to the manufacturers specs, the Everflow-produced 94x94mm fan moves 33.15CFM at a rotational speed of ~2000RPM. The fan is a translucent blue colour, and illuminated from just below the fan motor by four very bright blue LED lights. The effect is pretty nice as the 7-bladed impeller spins slowly around.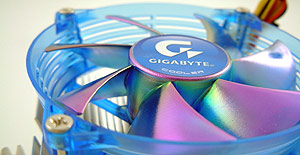 On top of this lighting effect, the impeller blades are coated with an iridescent paint which ranges from metallic light green to purple in colour. To reduce air turbulence and noise generation, the outside of the fan's casing is vented with a series of 1.5mm wide slits. This technique was first introduced by Andrew Lemont (see Augmented Fan ), before being adapted by Panaflo a few years back. In real world use, the slits tend to take the high-pitched whine out of a fan, most noticeably.
FrostyTech's Mk.II Test Methodology is outlined in detail here if would like to know what equipment is used, and the parameters under which the Gigabyte Neon Cooler 8-BL heatsink will be tested. Now let's move forward and take a closer look at this cooler, its acoustic characteristics and thermal performance!