The Thermaltake Silent Boost K8 heatsink is a mainstream cooler for AMD Athlon64 and Sempron socket 754/939/940 processors. The heatsink is completely made of copper components for the metals' high thermal conductivity properties, and utilizes a Panaflo FBL08A12M fan for its lower noise generation. Installation is straightforward with the tool-free clip mechanism which locks on to all three tabs of the K8 retention frame solidly. Rotating a small cam lever then applies the necessary force on the K8 processor's integrated heat spreader that AMD's thermal design guidelines require.
The Silent Boost K8 heatsink does not come with any fan speed controllers, or temperature sensors, so it is a very basic cooling solution for standard desktop computers. According to FrostyTech's acoustic measurements, the noise from this Thermaltake heatsink hovers around the 49dBA mark, which is moderately low. As with most of Thermaltake's offerings, the model A1838 "Silent Boost K8" is quite affordably priced, although it is absolutely not a "silent" heatsink.
Thermaltake Silent Boost K8 Heatsink

---

heatsink specsheet
manufacturer: thermaltake
model no.: a1838 "Silent Boost K8"
Materials: Stacked copper fins soldered to copper base

Fan Mfg: Panaflo FBL08A12M

Fan Spec: 2500RPM, 12V, 0.17A
Fan Dim: 25x80x80mm
Heatsink & Fan Dim: 79x88x80mm
Weight: 450 grams (est.)
Includes: thermal compound

---

Compatible with Sockets: 754/939/940
Est. Pricing: $22USD ($26CDN)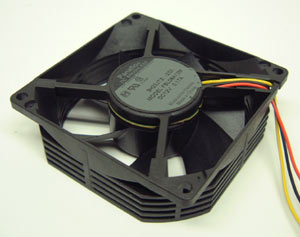 The Panaflo FBL08A12M fan is a design of Panasonic Industrial, but manufactured by Matsushita Electric. The fan frame has horizontal slats in it which reduce air turbulence and associated high-pitched noises that can sometimes occur. The multi-directional air intake is apparently supposed to promote better airflow while keeping the overall noise of the fan to a minimum. On top of that, the fan uses a "Hydro Wave Bearing" to reduce impeller mechanical noises and increase the fans longevity.
Typically, ball bearings have better life expectancy but are louder than sleeve bearings which can dry out after several years continuous use. Sleeve bearings are quieter, but wear out faster if not properly lubricated at all times.
The Panaflo's "Hydro Wave Bearing" is basically a fancy name for a common sleeve bearing with a thrust plate (rotating washer). The plate helps to redistribute lubricant so that loads in the axis of rotation (axial) are reduced on the sleeve bearing. FrostyTech has actually discussed how different bearing systems work in this article, if you're curious.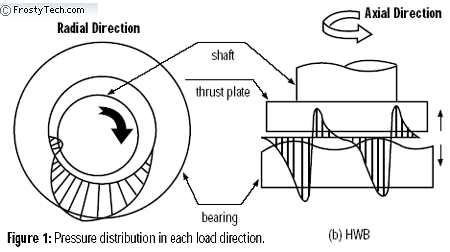 "Panaflo's unique hydrowave bearing (HWB) addresses the traditional weakness of sleeve bearings... axial friction. By utilizing our unique HWB system, the thrust plate "floats" on a circulating film of oil, which greatly reduces the axial friction and the bearing's deterioration. The HWB pattern on the bearing virtually eliminates thrust plate contact which is depicted above.

As the shaft rotates it acts as a pump constantly circulating the oil in the radial, as well as the axial direction. The sealed system and reservoirs of oil maintain the proper lubrication to minimize mechanical contact and prolong the fan's life expectancy. The radial direction analysis shown above is essentially the same as a traditional sleeve bearing. Panasonic's unique HWB reduces the axial contact."
FrostyTech's Test Methodology is outlined in detail here if you would like to know about the parameters under which this heatsink will be evaluated. Now let's take a closer look at the Thermaltake Silent Boost K8 heatsink, its acoustic characteristics, and thermal test results!