The Cooljag SFO-D(18SC) is a heavy one piece skived copper heatsink intended for use with AMD Athlon64 and Opteron processors. Its thick copper base and tall 58mm tall fins add up to 732 grams worth of heatsink, a weight that requires a special set of mounting hardware which is included with the heatsink. A high speed 6800RPM Delta fan is set on its side so that air is blown tangentially to the fins, moving about 38CFM air in the process. The Cooljag SFO-D(18SC) pays no attention towards doing all of this quietly, and according to measurements made in the FrostyTech sound isolating chamber it makes a 64dBA racket in the process.
Skiving is a relatively straightforward metal working technique, and it is very similar to the act of hand planning a block of wood except that the 'shavings' are shorter and remain attached. The benefit of a skived heatsink has always been the lack of a thermal joint between the fins and base, since each is formed from the same block of raw material. In this case, the skived fins on this Cooljag heatsink are particularly long (58mm) though.
Cooljag SFO-D(18SC) Heatsink

---

HEATSINK SPECSHEET
Manufacturer: Cooljag
Model No.: SFO-D(18SC)
Materials: skived C1020 copper
Fan Mfg: Delta AFB0612EH
Fan Spec: 6800RPM, 12V, 0.48A
Fan Dim: 25x60x60mm

Heatink & Fan Dim: 65x65x100mm

Weight: 732 grams

Includes: Thermal paste, screws and springs, steel back plate.

---

Compatible with Sockets: 754/939/940
Est. Pricing: $36USD ($40CDN)
One of the design elements incorporated into the Cooljag SFO-D(18SC) is a section of the skived fins being swept back. This helps reduce back pressure and promote even airflow through the fins.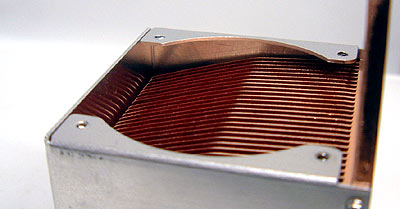 The mounting hardware is pretty simple, a standard metal K8 metal backplate (with a 3M adhesive coating to keep it in place once installed) and a set of spring-tensioned screws to apply the necessary force to the 732gram copper heatsink. The footprint of the Cooljag SFO-D(18SC) is 63 x 100mm so it will not fit into the standard socket 754/939 retention frame.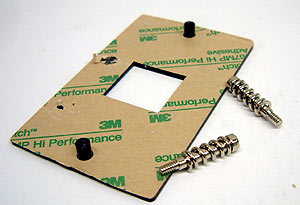 FrostyTech's Test Methodology is outlined in detail here if you care to know about the parameters under which this heatsink will be evaluated. Now let's move forward and take a closer look at the Cooljag SFO-D(18SC) skived heatsink, its acoustic characteristics and thermal test results!