The Evercool Magic Cooler (MAG01-CA) heatsink is one of those really low cost thermal solutions which tries to do everything under the sun. If we are to believe its packaging, the Evercool MAG01-CA heatsink "Keeps your system running cool" - whether that be a socket A/370 K7/PIII processor, the newest K8 powerhouse, or a socket 478 Intel Pentium 4.
While the MAG01-CA certainly installs onto all of those processor form factors, it's been our experience that a heatsink is either best suited for a large heatspreader capped CPU or for pumping heat away from the small surface area of bare silicon... almost never both.
The extruded aluminum Evercool MAG01-CA has most recently been marketed towards K8 AMD Athlon64 application, so that is what well be focusing on in this review. The FrostyTech Mk.II Synthetic Thermal Test Platform will help us determine just where the Evercool MAG01-CA stands in comparison to a multitude of other Athlon64 heatsinks. Will its compact 70mm fan deliver enough airflow? Can its slim 4mm thick disk of copper set into the base really make any difference? Is this heatsink really suitable for socket 754/939 AMD Athlon 64 processors?
Evercool MAG01-CA Heatsink

---

heatsink specsheet
manufacturer: evercool
model no.: mag01-ca
materials: extruded 6063 aluminum with copper insert plate.
fan mfg: evercool ec7015m12ca
fan spec: 3500rpm, 12v, 0.18a
fan dim: 15x70x70mm
heatink & fan dim: 58x73x84mm
weight: 325 grams
includes: thermal paste, plastic k8 retention frame and clips for p4, k7, k8 processors

---

Compatible with Sockets: 370/A/478/754/939/940
Est. Pricing: $18USD ($22CDN)
The Evercool MAG01-CA heatsink comes with three sets of clipping mechanisms, one for each of the different CPU sockets it is compatible with. The Pentium 4 clips are tool free, while the K7 and K8 sets require screwdrivers. A plastic socket 754/939 retention frame and accompanying back plate are also in the package. There are four different versions of the Magic Cooler produced by the company, the differences being a fan which uses a long life bearing, one or two ball bearings or sleeve bearing. The MAG01-CA model shown here utilizes a single ball bearing in the fan motor.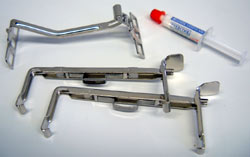 Other than the really nice shade of purple the anodized aluminum extrusion has been dyed, the Evercool MAG01-CA doesn't have very many other characteristics that stand out. A 35mm x 4mm thick disk of copper is set into the aluminum base of the heatsink, but as we'll see in a moment its' effectiveness may be cut short by a number of deep cross-cuts in the extrusion.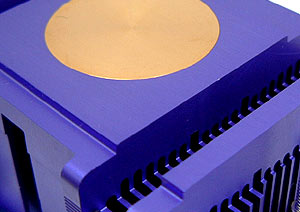 If you would like to read about FrostyTech's Test Methodology and the equipment we use, that's outlined in detail right here . Now let's move forward and take a closer look at this heatsink, its acoustic characteristics, and of course how it handles the heat!