In the past months FrostyTech has racked up the Air Miles, traveling to Taipei Taiwan and Las Vegas to attend some of the computer industries largest events. During that time walking the trade show floor, thousands of photos of the newest and most cutting edge cooling systems were taken. In the following pages you'll see every imaginable shape, material, and size of cooling system. From Socket T heatsinks for Intel's LGA775 Pentium 4 processor to entirely passive water cooling towers that resemble high end design more than a silent, liquid cooling system.
Exploring millions of square feet of exhibit floors always leads to an abundance of information to sift through. For this article, FrostyTech will focus on covering the most well known heatsink manufacturers and most inventive heatsink designs. Suffice to say, there were more than few companies producing the exact same type of heatsink...
More than one manufacturer has described the heatsink industry and "cut-throat competitive," and after seeing dozens of Chinese companies selling their manufacturing services it's easy to understand why patents in this area are seldom given the respect they deserve.
Companies exhibiting at Computex and CES make up the bulk of what we have to show you, but rest assured FrostyTech's connections within the industry mean we can include a few unexpected surprises too. Some of these heatsinks are already available, while others have yet to surface!
Heatsink Terminology For Intel Processors
TDP - Requirements
Northwood FMB2 - 82W
Prescott FMB1 - 89W
Prescott FMB1.5 - 100W
Prescott FMB2 - 103W
Tejas FMB1 - 110W to 140W (cancelled)
Intel Socket Formfactors
Socket 370 - N/A
Socket 478 - (Northwood-FMB2, Prescott-FMB1, Prescott FMB1.5)
Socket 775 - (Prescott-FMB2, Tejas-FMB1) (cancelled)
AMD Socket Formfactors
Socket 462/A
Socket 754
Socket 940/939
Before we start off, a quick briefing on the technical heatsink designations from Intel is in order. These code-names are not what most of us would call a heatsink by, but if you're following heatsink trends you'll need to be familiar with Intel's 'FMB' designations and what currently, the majority of computers are using a Northwood FMB2 heatsink which is capable of handling 82W. That will soon change as the Prescott FMB1 guidelines come into effect, bringing along power dissipation requirements of 89W. Before we say goodbye to the venerable socket 478 platform completely, the Prescott FMB1.5 guidelines will kick in with power dissipation requirements of 103W.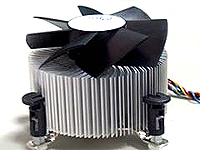 With the change from socket m478 to socket LGA775 processors, Intel was to shift gears to the Prescott FMB2 and Tejas FMB1 standards. Prescott FMB2 covers a power dissipation level of about 100W, and supports the LGA775 Prescott processors. The Tejas FMB1 standard was to follow with a power dissipation level of 110W, but Intel abruptly cancelled all Tejas core LGA775 processors because TDP values approached 150W in some situations.
While the Tejas core is long dead and buried, heatsink manufacturers had enough time to design and build heatsinks that would have otherwise supported a standard that was anticipated to scale as high as 140W, before the cancellation was made public. Currently, the stock heatsink shipping with socket 775 processors is Intel's Radial Curved Bifurcated Fin Heatsink Reference Design.For for short, we'll just called it by the model name; the Intel RCBFH-3 Reference Design. Incidently, the word bifurcated means "forked or divided into two parts or branches."