The Evercool K802-715CA is a pretty standard Athlon64 heatsink whose main selling point is its copper construction, and inexpensive sticker price. How its 516 grams of copper have been assembled are not necessarily conducive towards great cooling efficiency however, and the results of FrostyTech's synthetic thermal tests will shortly illustrate the K802-715CA's effective limits.
While the Evercool K802-715CA is technically compatible with socket 939, 940 and 754 processors, it's unreasonable to expect that this heatsink would ever be used with an AMD Opteron processor. Consumers investigating this model from Evercool had best limit its application to lower model number socket 754/939 Athlon64/Sempron CPUs. The heatsink itself is compact, with a single speed 70x70mm fan that is moderately noisy. The (tacky) gold plated impeller of the fan spins around at about 3500RPM, and so noise levels are pretty middle of the road for a K8 heatsink.
The Evercool K802-715CA installs onto a standard AMD-designed K8 retention frame with a single metal clip and locking arm mechanism. One side the clip slides on easily, while the other has tabs so that a flat screwdriver can be used for leverage to lock it in place on the opposite tab. A rotating plastic armature then applies the correct pressure as it clips into position.
Evercool K802-715CA Heatsink

---

HEATSINK SPECSHEET
Manufacturer: Evercool
Model No.: CNPS9500 LED
Materials: copper stack fins, copper base.
Fan Mfg: Evercool EC7015M12CA
Fan Spec: 3500RPM, 12V, 0.18A
Fan Dim: 15x70x70mm
Heatink & Fan Dim: 76x68x64mm
Weight: 516 grams
Includes: thermal paste

---

Compatible with Sockets: 754/939/940
Est. Pricing: $19USD ($23CDN)
A chrome plated fan shroud holds the clipping mechanism and fan in place, in a sort of stylized "X" shape.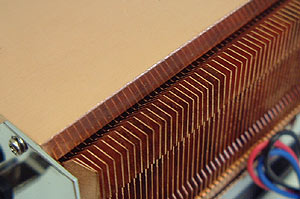 The fan blades are protected with an injection molded plastic fan guard. There is no thermistor to controlling fan speed, or any form of LED illumination which is a pleasant surprise.
The heatsink itself is basically a collection of parts that on first glance should have the whole task of keeping a processor running cool down pat. Given the amount of copper here, that is what we initially expected.
The K802-715CA's thick copper base plate has an additional copper bar running down its center which separates the two sections of stacked copper fin arrays. All parts are soldered to the copper base which is thick to resist the compressive forces necessary with K8 thermal solutions per AMD's spec. It sounds good, but the design fails to every really succeed because its construction is disjointed - a 13mm thick by 10mm swath of copper directly over the CPU isn't really well connected to the cooling fins, and the fins overhang the copper base plate in a not-necessarily-thermally-conductive-and-useful-way. You'll see what we mean as we look at little closer at the Evercool K802-715CA heatsink, and its acoustic properties next.