The Evercool NW11F-CLB825CA/LD2 is a socket 478 Pentium 4 heatsink based on a fairly standard design principle. Its clear plastic fan glows a nice bright blue thanks to three carefully placed LEDs, and noise levels are generally moderate. The extruded aluminum finned heatsink section is augmented with a 25mm diameter copper core insert that rests directly on the Pentium 4's integrated heat spreader. The copper core helps to improve thermal transfer throughout the aluminum portion of the heatsink.
What sets the Evercool NW11F heatsink apart from other Pentium 4 coolers is its two-piece implementation. The fan and heatsink retention frame form one half of the cooler, and the aluminum and copper heatsink the other. Installation is straightforward if a little tricky.
The heatsink is inserted into the standard P4 heatsink retention mechanism (HSRM), and then the upper half is pushed down to lock-in two sets of spring loaded plastic arms. Removing the heatsink is no more complicated than pushing in to release the catch, and squeezing the spring loaded plastic arms out to disengage the HSRM clip.
HEATSINK SPECSHEET

Manufacturer: Evercool
Model No.: NW11F-CLB825CA/LD2
Materials: copper core, extruded aluminum
Fan Spec: 4000RPM, 12V, 0.13A, 48 CFM
Fan Dim: 25x80x80mm
Heatink & Fan Dim: 89x92x83mm
Weight: 490

---

Compatible With: Socket 478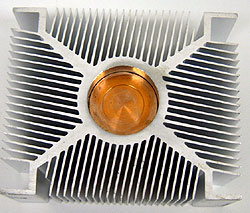 The tricky part comes along when users try to install/remove this heatsink while the PC chassis is standing upright. Without the pressure from the upper half holding it in place, the metal heatsink component can easily fall from the socket onto electronics below.
The other danger, though very unlikely, is that the lower half of the Evercool NW11F will be installed upside down... As the copper core does not run the full height of the aluminum fin section, this would place nothing directly in contact with the processor's IHS, quickly leading to overheating.
FrostyTech's Synthetic Test Methodology is outlined in detail here if you care to know what equipment is used, and the parameters under which the tests are conducted. Now let's move forward and take a closer look at this heatsink, its acoustic characteristics, and the thermal test results!