As if there weren't already enough heatsinks for socket A/462 AMD processors, Spire has come up with yet one more iteration. The Spire Verticool SPA49B0 combines several technologies into one compact cooler that weighs in at just under 350grams. A single 80 x 80 x 25mm fan forces air through a stacked array of aluminum fins, connected to the lower half of the heatsink by two "U" shaped 6mm diameter copper heatpipes.
The heatpipes draw heat away from the copper baseplate, which is further cooled by a brazed-on extruded aluminum heatsink. The SPA49B0's fan is mounted in such a way that airflow moves over the large flat section of stacked aluminum fins, and over the tops of the lower extruded-aluminum heatsink segment too.
Noise levels are moderate-to-low for the Spire SPA49B0, but it lacks a thermally responsive fan. The package includes a small syringe of 'Fanner 420' white silicon thermal compound with a listed thermal conductivity of less than 2.062W/mK.
THERMAL TEST REPORT

Heatsink Specsheet:
Manufacturer: Spire
Model No.: SPA49B0 Verticool
Materials: copper base, extruded aluminum, heatpipes, aluminum fins
Fan Spec: 2300RPM, 12V, 0.15A, 28 CFM
Fan Dim: 25x80x80mm
Heatink & Fan Dim: 97x75x81mm
Weight: 333g

---

Compatible With: Socket A/462, 370
The extra heatsink on the copper base plate serves to help retain the heatpipes in place, and also assist in the cooling of the heatsink. The clipping mechanism 'floats' in the channel, and can be engaged or released without the use of any tools.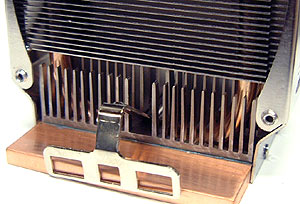 A fan shroud wraps the entire cooler, protecting the fins and helping to direct air through them rather than around. Last but not least, the 80mm fan comes with a stylized fan guard to prevent objects from jamming the blades of the Verticool's fan.