Gigabyte PCU22-SE 3D Rocket Cooler Heatsink Review
---
Gigabyte first entered into the cooling industry with its large copper PCU31-VH 3DCooler-Ultra heatsink. While that heatsink certainly had excellent performance characteristics, it was a very heavy, 700+ gram thermal solution. The Gigabyte 3D Rocket Cooler (PCU22-SE) is a variation on the 3D Cooler Ultra design, with a couple of significant enhancements that make it an interesting option for mainstream users who just needs a multi-platform heatsink that works quietly.
The Gigabyte PCU22-SE is configured to work on the socket 462/A AthlonXP, socket 478 & 775 Pentium 4, and socket 754/940/939 Athlon64 processors. That level of versatility inherently dictates some sacrifices are made to accommodate the different thermal requirements, and differently size CPU cores and heatspreaders.
The obvious benefit for consumers is that with just one heatsink, you can cool any platform you may upgrade to in the near future. In practice, the PCU22-SE works best on processors with a larger core, like the Athlon64 and Pentium 4.
Heatsink Specsheet:

Model: PCU22-SE
HS Material: Aluminum, copper heatpipes, forged copper base
Fan: 3000RPM, 12V, 0.5A
Fan Dim: 50x50x50mm
FHS Dimensions: 83x83x112mm
Weight: 490 grams
Made by: Gigabyte

Sold By: www.gigabyte.com.tw
Of all the design alterations, the ones which give the 3D Rocket Cooler its name revolve around the fan, and how air is exhausted from the cooler. What makes this mechanism interesting is that the top of the PCU22-SE is actually sealed off with a clear sheet of plastic, forcing air drawn in by the squirrel cage fan to pass through the top 43mm section of aluminum fins.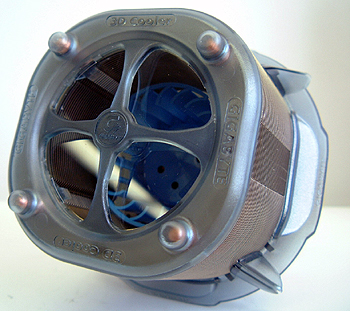 That air is then exhausted out the bottom of the cooler through a combination 18mm thick array of aluminum fins, and 15mm open gap.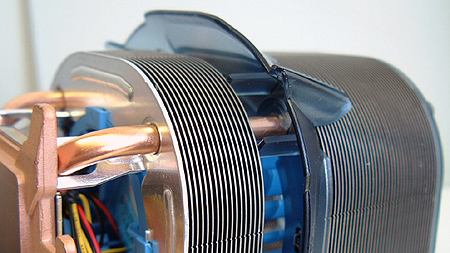 The premise being that the exhausted air is used to further cool the PCU22-SE heatsink, and air escaping through the open gap is direct by a translucent blue plastic skirt towards adjacent electrical components on the motherboard. This exhaust air may have been warmed by the heatsink, but is still useful for cooling items near by the processor socket; such as the Northbridge heatsink, MOSFETs (and in the case of Gigabyte, DPS power system), memory, and even videocard.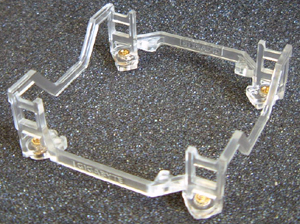 Used with one of three included clips, and a special plastic mounting frame, the Gigabyte 3D Rocket Cooler attaches to an AMD AthlonXP, Athlon64, or Intel Pentium4 with little fuss. It is important to consult the manual to ensure you have the heatsink oriented properly when using it with a socket A, or socket 775 processor. There is a small tab of metal that comes down, and if you have the heatsink installed the wrong way, it could cause problems when you power up the PC.