AOpen ACP4SH Pentium 4 Heatsink Review
---
Included along with the AOpen EX915 XCube small form factor PC is this heatsink, the AOpen ACP4SH. Designed with a skived copper base, and heatpipes, this cooler is technically used with the socket 775 Intel processor in the XCube system. However, the ACP4SH heatsink is designed to work with the socket 478 architecture, and clip system. It also happens to be a pretty competent cooler, so this is why FrostyTech is testing it here for you today.
In the acoustic tests a little later in this review we'll note that the ACP4SH heatsink weighs in with 67.1 dB of noise with the fan at full speed. It should be mentioned that when it is used in the EX915 small form factor case it ships with, the fan speed is adjusted according to temperature, and is predominantly very quiet.
Heatsink Specsheet:

Model: ACP4SH
HS Material: Skived copperl, heatpipes and copper fins
Fan: 1800-4800RPM, 12V, 0.42A
Fan Dim: 15x70x70mm
FHS Dimensions: 83x69x83mm
Weight: approx 430 grams
Made by: Aopen

Sold By: www.aopen.com.tw
The Aopen ACP4SH is one of the few heatsinks we've had the opportunity to test which makes use of both a skived copper base, and heatpipes. Judging by the design, the skived section is secondary to the heatpipes which transfer thermal energy to the large array of stacked copper fins. These fins make up the bulk of this heatsink.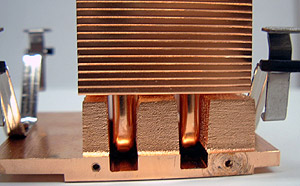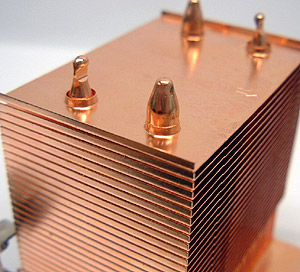 The two copper heatpipes are bent in a "U" shape, and soldered to the base at their mid-points, so there are four points exposed at the top of the ACP4SH heatsink. The clipping system this Aopen heatsink uses, works, but it is rather difficult to engage. The user needs to apply pressure to the clips with the black plastic boots, and not the bare metal clips. One will bend the spring tensioned arm down, while the other moves the little clasp in or out from the heatsink retention frame. In a tight case, it can be somewhat inconvenient.