Cooljag JACE2DC/180 1U Socket 478 Heatsink Review
---
This is the third in a series of similarly designed 1U full copper heatsinks from a company called CoolJag that FrostyTech has had the opportunity to test. Called the JACE2DC/180, this particularly heatsink shares most of its similarities with the CoolJag 2QC/180 1U cooler, save for a slightly different skived fin structure. The Cooljag 2QC/180 has an extra set of tall copper fins on either side of the squirrel cage fan, whereas the JACE2DC/180 we are testing here, maintains the same 7mm tall fins from end-to-end.
All of the 1U heatsinks from this series from Cooljag, employ active cooling from a 15mm thick Everflow squirrel cage fan set to intake cool air through the copper fins. The entire heatsink measures no more than 28mm in thick, and attaches to socket 478 Pentium 4 motherboards with the aid of metal back plate, and pre-installed spring tensioned screws. The stock m478 heatsink retention mechanism will need to be removed before the Cooljag JACE2DC/180 1U heastink can be installed. This may make installation a little complicated, depending on how tight things are in the 1U chassis. The CoolJag JACE2DC/180 is available through SelectCool.
Heatsink Specsheet:

Model: JACE2DC/180
HS Material: Skived copper
Fan: squirrel cage fan, 2100-5400RPM, 12V, 0.40A
Fan Dim: 15x60x60mm
FHS Dimensions: 28x89x74mm
Weight: approx 470 grams
Made by: Cooljag

Sold By: www.selectcool.com
Given that a 1U of space in a 19" rack equates to a server 1.75" thick, there is typically no more than about 30mm of vertical space for the entire processor cooling solution; heatsink and fan. Most commercial servers will tend to use fully passive heatsinks, and engage airflow with the use of an array of 40mm fans. For smaller servers, handling Firewall or VPN requirements, less noise intensive cooling solutions are used for what is typically a standard desktop mainboard inside a small 1U server chassis. For these applications, this copper skived heatsink and squirrel cage fan design makes sense. For production critical servers, it is always best to go with passive heatsinks, and forced air cooling from case fans however.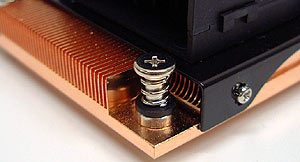 Everything that you need to install this heatsink onto the motherboard PCB is already in place and ready to go. The screws are spring tensioned to evenly distribute the force and prevent the heatsink from sitting askew on the core of the processor.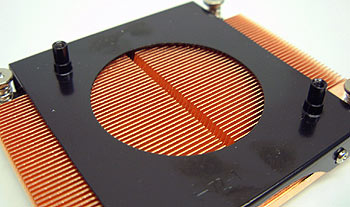 The metal fan shroud helps to duct the intake air through the series of copper skived fins, before it is sucked into the fan and exhausted outwards.