Cooljag E44C/180 1U Socket 478 Heatsink Review
---
It's been a while since we spent time at the test bench determining the thermal performance of a 1U heatsink, but here we are again. In this review, the heatsink manufacturer CoolJag (a division of Dynatron) has submitted to Frostytech the CoolJag E44C/180 heatsink. The E44C/180 is a fully copper skived heatsink which is actively cooled by a thin squirrel cage fan that rests on top. The entire heatsink measures 28mm in height, and fits into a standard socket 478 wire-clip retention frame. These types of retention frames were popular with the socket 423 Pentium 4 processors for a while, and have now been retasked to 1U requirements. The CoolJag E44C/180 is available through SelectCool.
Given that a 1U of space in a 19" rack equates to a server 1.75" thick, there is typically no more than about 30mm of vertical space for the entire processor cooling solution; heatsink and fan. Most commercial servers will tend to use fully passive heatsinks, and engage airflow with the use of an array of 40mm fans.
For smaller servers, handling Firewall or VPN requirements, less noise intensive cooling solutions are used for what is in most cases a standard desktop mainboard inside a small 1U server chassis. For these applications, the copper skived heatsink and squirrel cage design make sense. For production critical servers, it is always best to go with passive heatsinks and forced air from case fans.
Heatsink Specsheet:

Model: E44C/180
HS Material: Skived copper
Fan: squirrel cage fan, 2100-5400RPM, 12V, 0.40A
Fan Dim: 15x60x60mm
FHS Dimensions: 28x88x62mm
Weight: approx 467 grams
Made by: Cooljag

Sold By: www.selectcool.com
The question of course is how well does this 1U server Pentium 4 heatsink really perform? We'll answer that question in just a second.
With a lanky m478 heatsink such as this comes the need to install both a metal backplate and wire-clip retention frame on the motherboard. Everything that you need to do this is included along with the heatsink, so it is only a matter of pulling out the motherboard, installing the HSRM and metal backplate, and then putting everything back into the case. Such processes are a bit of a pain with out-of-the-box servers, but if you are building your own this doesn't add much time to the entire process.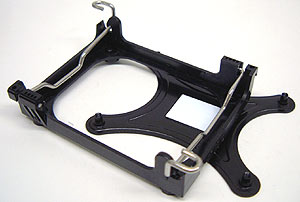 The clipping mechanism is pretty sturdy, so you should even be able to get away with leaving the heavy copper heatsink installed during transit.