Scythe NCU-2000 Pentium4 Heatsink Review
---
The Scythe NCU-2000 is a revised version of the TS Heatronics NCU-1000 fanless heatsink, offering up compatibility with the Socket 754/939 Athlon64 processors as well as the good old Pentium 4 CPU. It does not currently support the Socket 775 P4 processor however. What makes the NCU-2000 unique is that it is an entirely passive cooling solution. It functions by making use of the air currents that exist within a computer case to keep itself, and the processor cool.
The NCU-2000 measures 143mm tall, so be aware that it may not fit in smaller PC cases. While the Scythe NCU-2000 is technically a 'zero noise' heatsink, it cannot operate without some degree of air flowing over its fins. Whether that airflow comes in the form of convection currents, or more likely, from the intake and exhaust of power supply and case fans, the heatsink needs some degree of air moving over its metal fins to work.
For the purposes of this review, we will be using a single 92mm x 92mm low-noise Zalman PS92252H fan set at 6" and 12" distances from the Scythe NCU-2000 heatsink, in an impingement orientation. The intention is to replicate typical PC enclosure air flow.
Heatsink Specsheet:

Model: Scythe NCU2000
HS Material: Stacked aluminum fins and TS Heatronics Heatlane heatpipe, Copper base plate.
Fan: none
Fan Dim: n/a
FHS Dimensions: 143x108x70mm
Weight: approx 505 grams
Made by: Scythe

Sold By: www.scythe-usa.com
The NCU-2000 cooler comes disassembled, so you'll have to put everything together based on which type of processor it will be used with.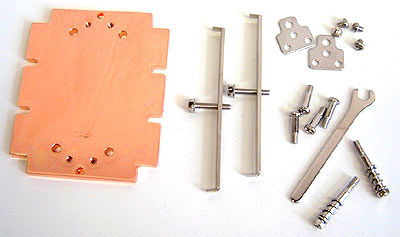 The basic process involves attaching the 5mm thick copper plate to the bottom of the finned section of the heatsink. If the Scythe NCU-2000 is going to be used on an Athlon64 system, there are a couple of other parts that need to be attached also. The instructions are clear, so this isn't a difficult task.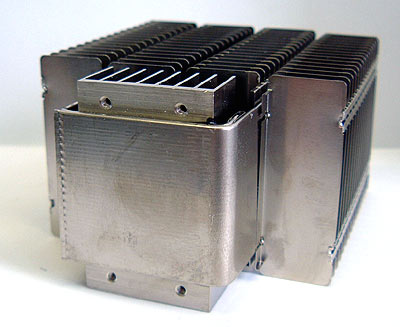 The copper base plate can be installed onto the heatpipe in one of two ways, each 90 degrees to the other. Depending on how the Pentium 4 socket is oriented on the motherboard, you may have to mount it one of those two ways in order for the 108mm wide heatsink to install properly on the board.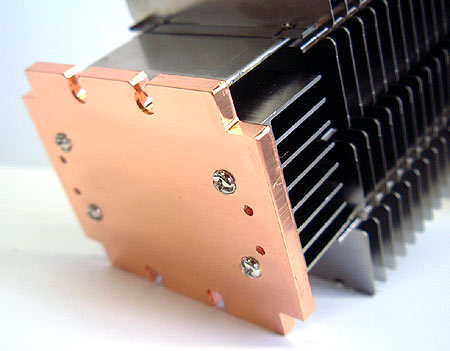 For the Scythe NCU-2000 to work properly inside the PC, the fins of the heatsink have to be oriented vertically. If the fins are oriented horizontally, convection cooling won't be nearly as effective because as the hot air rises, it will not be passing through the heatsink fins. How the NCU-2000 actually stays cool without a fan is what will discuss next.