Asus Crux P4 XB7N Heatsink Review
---
At Computex 2004 this June, FrostyTech.com met with representatives of Asus in Taipei, Taiwan to discuss some new products the company was introducing. The discussions that followed did not revolve around videocards, motherboards, notebooks or cases, but rather a new series of Asus heatsinks.
Up until this point, Asus had not sold heatsinks under its brand name, and was known primarily as a videocard and motherboard manufacturer. Yet making a good heatsink is a complex process, and with its many resources, Asus is well positioned to entire the market strong against other Tier One manufacturers like Gigabyte. That's assuming it can live up to the expectations of its own brand name, and produce some quality coolers.
This is the question on our minds as we test out the new Asus Crux P4 XB7N heatsink. The Crux P4 is the first Asus heatsink to be tested by FrostyTech, and thanks to its thermally controlled fan, is also one of the quietest ones for its class. Our digital sound meter measured its lower-end noise output at a meager 38.5 dBA, excellent compared to most Pentium 4 coolers. When temperatures rise, expect sound levels to follow suit through to 52.9 dBA.
Heatsink Specsheet:

Model: Crux P4-XB7N
HS Material: Stacked soldered copper fins and copper core
Fan: 2100-5400RPM, 12V, 0.55A, 2 ball bearing
Fan Dim: 16x70x70mm
FHS Dimensions: 46x68x83mm
Weight: approx 467 grams
Made by: AsusTek

Sold By: www.asus.com.tw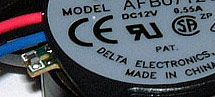 The speed of the Delta AFB0712VHB fan is controlled by a small thermistor which sticks out from the side of the motor housing, facing downward. This places the temperature sensor effectively in the path of the intake air, so users of the Asus Crux P4 XB7N will really only hear the heatsink speed up when case temperatures rise.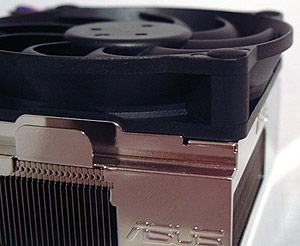 There are both benefits and failings to this method of fan speed control, but since this cooler is geared towards lower noise output it shouldn't cause problems in that regard.
For the purposes of FrostyTech's Synthetic Temperature tests, we shorted out the thermistor contacts to force the fan to spin at its full 5400RPM. A second set of tests were run without modification to the thermistor, enabling us to acquire a set of low fan speed temperature and noise test results.
Another variation of the Asus Crux P4 is the Delta fan used here. It has a flared intake which widens at the mouth to 80mm. The fan is just 16mm thick, and since the frame is flared only on one side, it is still technically considered a 70mm fan. Additionally, small rubber caps have been fitted into the screw holes of the fan frame... perhaps to provide smoother air flow.
Once little tip, when installing the Crux P4 it is easiest to thread the mounting clips onto the heatsink before attempting to install the cooler. The extra size of the fan frame interferers with the clips, so installation is a bit tricky.