Vantec VA4-7245 Aeroflow 2 Socket A Heatsink Review
---
There isn't all that much life left in the venerable AthlonXP processor if you look at the most recent CPU road maps from AMD. Yet, motherboard manufacturers are still producing thousands of Socket A boards, and AthlonXP chips are still some of the best deals around. Overclockers also like the AthlonXP for its overclockability, and great gaming performance. Hence, it's no surprise that heatsink makers like Vantec are creating newer Socket A heatsinks for the mass market.
Vantec's AeroFlow2 VA4-7245 AthlonXP heatsink is the siamese twin to its VP4-7245 model, with the only major difference revolving around the clip. In our experience, heatsinks of dual use design tend to favour one platform over the other, so it with great interest that we'll be looking at the thermal test results in this review...
Heatsink Specsheet:

Model: VA4-7245
HS Material: Extruded aluminum with copper core
Fan: 4000RPM, 12V, 0.24A, ball bearings
Fan Dim: 25x70x70mm
FHS Dimensions: 73x68x83mm
Weight: 468 grams
Made by: Vantec

Sold By: www.vantecusa.com
The Vantec VA4-7245 makes use of a pretty cutting edge aluminum extrusion pattern with an embedded 25mm copper core for added effect. This combination of many thin aluminum fins, and a higher thermally conductive core metal should help the VA4-7245 achieve its design criteria well.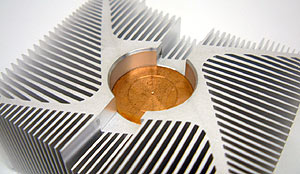 Here, you can see the basic building blocks of the Vantec VA4-4275; the copper core and aluminum section.