AVC Z7H2403012 Internal Prism Base Heatsink Review
---
What is the newest trend in heatsink thermal design? Hint, it's not heat pipes, prolific amounts of copper, phase change materials or cold forging - it's the "Internal Prism Base." If that seems unclear, just imagine that the copper base of the AVC Z7H2403012 heatsink, pictured below, is in the shape of an obtuse triangular prism - about 67mm long, 13mm high, and 51mm wide. The widest side of this copper prism sits directly on top of the processor core, and the two smaller sides are soldered to the copper fins above.
Thermalright have been using a similar process with their heatsinks for quite some time, but as their base sections are split down the center to leave space for the clip, it isn't quite the same concept. The closest example of the IPB we can compare this AVC heatsink to is the Novasonic-AlCu from Tocools, or the Thermal Integration TI-A8736N. Tocools have to be credited with applying the first example of this thermal design technique, however.
Heatsink Specsheet:

Model: Z7H2403012
HS Material: Triangular Copper base with stacked copper fins.
Fan: 2900-5400RPM, 12V, 0.7A, ball bearings
Fan Dim: 20x70x70mm
FHS Dimensions: 56x69x87mm
Weight: n/a
Made by: AVC

Sold By: www.avc.com.tw
In that adaptation, the heatsink was manufactured from a solid block of aluminum, and featured a rather tall internal prism shape.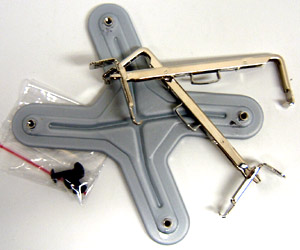 With the AVC Z7H2403012 heatsink, Asia Vital has adapted the stacked copper fin process, and soldered the fins directly to the upper half of the solid copper internal prism base.
Assuming the solder joints between the IPB and 45 thin copper fins is good, we should be looking a Pentium 4 heatsink that is a force to be reckoned with... right?
I tried loosening the screws which hold the aluminum fan shroud in place so we could get a better look at the IPB inside, but no luck there - the heads just stripped right off and wrecked my screwdriver in the process...
Along with the heatsink and fan, AVC bundle in a set of clips, the socket 478 frame, and the X-Pad motherboard support frame. Because of the weight of heatsinks these days, and the forces the clips apply, it is important to support the motherboard PCB from bending.