Gigabyte 3DCooler-Pro PCU21-VG P4/K7/K8 Heatsink Review
---
It's one thing for a motherboard manufacturer to enter networking or optical drive markets, but it has been rare for one to release cooling products... Take for example that up until now, the only motherboard company we are aware of to make such a transition has been Aopen. Now Gigabyte, and even Asus have created, or are creating cooling divisions, albeit if in limited quantities compared to the Zalman's and Thermaltake's of the world.
The Gigabyte 3DCooler-Pro is an an all-in-one aluminum and copper heatsink designed to support all processors currently available. In other words it is a K7/K8/P4 heatsink - supporting the AMD AthlonXP, Athlon64 and Intel Pentium 4 processors. Versatility means some sacrifices are made to accommodate the different thermal requirements, and surface area of each CPU core, but in general Gigabyte pull it together quite well. The draw for consumers is that one heatsink can be used on any platform, and that means the 3DCooler-pro potentially pays for itself in the future by not needing to be upgraded along with other processor specific components.
The 3Dcooler-Pro as it's name suggests, exhausts warm air in a 360 degree fashion from the central fan. The blue two-tier squirrel cage fan is integrated into the body of the heatsink, and intakes air from the blue LED illuminated opening at the top, and another at the bottom. A series of 40-odd stacked aluminum fins connected by two "U" shaped heatpipes to the forged copper base complete the 430gram thermal design.
Heatsink Specsheet:

Model: PCU21-VG
HS Material: Forged Copper, copper heatpipes, aluminum sheet
Fan: 2000 - 4000RPM, 5-12V, 0.5A
Fan Dim: 55x52x52mm
FHS Dimensions: 87x83x89mm
Weight: 430 grams
Made by: Gigabyte

Sold By: www.gigabyte.com.tw
Used with one of three included clips, the 3Dcooler-Pro attaches to an AMD AthlonXP, Athlon64, or Intel Pentium4 with little fuss. It is important to consult the manual to ensure you have the heatsink oriented properly when using the socket A clip especially. There is a small tab that comes down, and if you have the heatsink installed the wrong way, it could cause problems when you power up the PC. The heatsink and power hungry blue LEDs draw power from a standard molex pass through power cable, and not the motherboard fan header. the molex power cable is long enough that you can attach it to a drive or powersupply without worry however.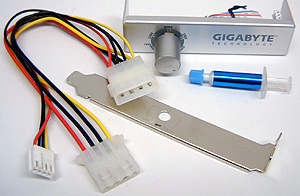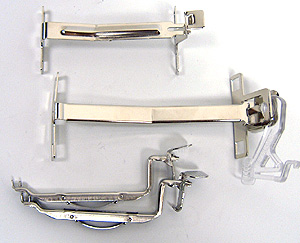 Additionally, the Gigabyte 3Dcooler-Pro heatsink comes with a fan speed adaptor which mounts to a 3.5" aluminum floppy drive bay cover or PCI bracket for quick access. The potentiometer allows the user to adjust the 3Dcooler fan speed from a quiet 1000RPM to a loud 4500RPM with ease, and plugs into the side of the heatsink with a short 18" cable.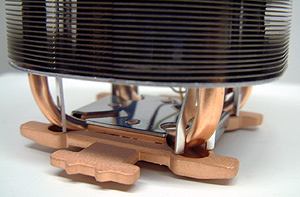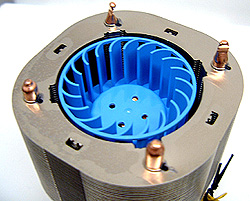 Based on thermal testing FrostyTech has conducted on the Pentium 4 and AthlonXP Synthetic temperature test platforms, the 3Dcooler-Pro offers consumers pretty respectable lower-noise cooling, and very impressive high end cooling for the P4 in particular - that is if you don't mind the vacuum cleaner like noise levels of upwards of 64 dBA (according to our real world sound measurements).