Thermal Integration TI-RV108N Pentium 4 Heatsink Review
---
If you're looking for a bit of insight into the cooling world, pay close attention to this type of heatsink from Thermal Integration. The TI-RV108N is blessed with an "X-form" vertical extrusion and copper core design that instantly puts it spades ahead of the competition. The reason is simple, the cool exhaust air from the 4000RPM fan exits the heatsink directly at the processor, adding a further layer of cooling which is more than just inconsequential.
Take into consideration the 28mm diameter copper slug at the very center of the Thermal Integration TI-RV108N, and you have all the ingredients necessary for one very capable socket 478 heatsink. Now let's find out what the thermal tests have to say!
Heatsink Specsheet:

Model: TI-RV108N
HS Material: Extruded aluminum and copper insert
Fan: 4000RPM, 12V, 0.6A
Fan Dim: 25x70x70mm
FHS Dimensions: 87x69x64mm
Weight: 515 grams
Made by: T.I.T.I.

Sold By: www.thermal-integration.com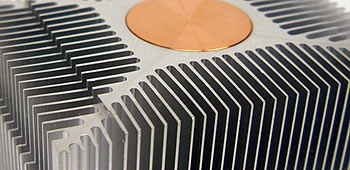 The TI-RV108N is an extruded aluminum heatsink, but there are several differences between it and what most of us are used to seeing. For starters, the main components of the heatsink, the fins, are all very thin - typically no more than 1mm thick.
The copper core which measures 28mm in diameter forms the contact area of the heatsink, and through an interference joint with the surrounding aluminum transfers whatever heat it absorbs out to the many thin aluminum fins.
The fins branch out to a length of ~27mm with a slight clockwise curve from the main "X-Form" arms which are about 2.5mm thick. For the heatsink to be efficient, the large arms which form the X pattern must be thick enough to transfer the heat energy out to the corner fins.