Evercool CUF-715 Copper AthlonXP Heatsink Review
---
Looking for a little more out of your AthlonXP processor and afraid that stock AMD heatsink just isn't cutting it? Rest assured, there are hundreds of other heatsinks waiting in the wind, and the Evercool CUF-715 is just one such example.
This compact Socket A copper heatsink comes with all the features you'd expect from a mainstream cooler; copper base, copper fins, good sized fan, and even a fan guard. It doesn't rank too high in the noise department, and that's always a good thing. The soldered fin design and not-so-classy shiny gold fan blades certainly make this cooler stand out, but just how well does the Evercool CUF715 perform thermally?
We'll have the answer to that, and many more questions in just a moment. First the basics...
Heatsink Specsheet:

Model: CUF-715
HS Material: Copper fins and base
Fan: 3500RPM, 12V, 0.18A
Fan Dim: 15x70x70mm
FHS Dimensions: 60x86x63mm
Weight: 345 grams
Made by: Everflow

Sold By: www.evercool.com.tw
Surprise, surprise, the Evercool CUF-715 is virtually identical to the Titan CW9TB/SC that we reviewed previously. It will be interesting to see how these two heatsinks compare to one another, as the only major difference is a heathly coating of chrome on the later cooler.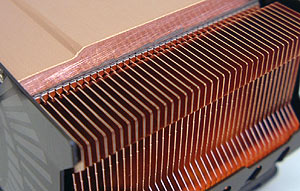 The fins may look like they have been glued in place, but rest assured that is solder. Each fin has a small fold of copper formed at the base which has been soldered directly to the 6mm thick copper base plate. This forms a good thermal interface in theory, but can be adversly affected if the solder flow was incomplete.