Evercool SCPA Fan Controller and ECS Review
---
At some point in time we all break down and get a fan controller for one of our empty 5.25" bay slots. In the emerging days of internet hardware enthusiasts, circa 1999-2001, it was the mark of a true geek to see his or her own hand made fan controller blinking away in an ode to Tim Allen. These days, fan controllers are store bought items produced by dozens of companies looking to accessorize their product lines.
Given the upsurge in LAN gaming events where we all like to show off our PC's like miniature hot-rods, it's not uncommon for the once utilitarian fan controller to be sporting a billion blinking LEDs of every imaginable colour. The Evercool SCP-A falls into that category with three dials surrounded by a changing colour fixture.
As the RPM on the attached fan increases, the colour changes from blue to purple to pink (fastest). A red light indicates an error with the fan in question, and an alarm also wails away. The actual voltage adjustment ranges from 3.75V on the lower end through to 11.3V on the upper end.
What sets the Evercool SCP-A apart from many other fan controller is primarily that it is an unpowered device. The unit sucks power from each attached fan to supply the onboard electronics, LEDs, and the audible alarm. This makes wiring a synch.
Evercool bundle there 5.25" bay fan controller with the necessary mounting hardware, and 3-pin fan extension cables. The unit includes three male-to-male extension cables about 16" long to supply power to each channel, and three male-to-female cables 12" long.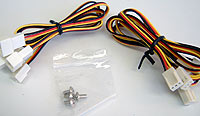 This brings up an interesting dilemma - what if your motherboard only has two fan headers? Well, unless you already have a molex-to-fan header adaptor you out of luck.
he Evercool SCP-A only operates with three sources of power in 3-pin format already supplied to it, and without those sources of power you won't be able to use all three channels.
When hooked up and under power, the Evercool SCP-A functions just as you expect it to, the LED's change colour with the RPM levels, and if the fan jams, or becomes disconnected it registers as an error. Ultimately though, all fan controllers offer similar features and functions, so it really comes down to appearance for most of us.
And while the multicolour LEDs are pretty cool, the rest of the unit is a dark blue plastic which guarantees it doesn't mach a single case out there. The buttons are chromed, and well... it looks like the thermostat from your car. ya....
Evercool ECS (Extended Cooling System)
The idea behind products like the Evercool ECS is dead simple. When you shut down your PC you also shut down the cooling system which until that point may have been dealing with temperatures as high as 60 degrees Celsius. Once that fan stops the temperatures can continue to rise momentarily before convection cooling eventually brings everything down to room temperatures. If you're touchy about your hardware this may be an unthinkable sin - to leave your expensive videocard cooking away under the resident heat from surrounding materials, but I'm not so convinced in the 'dangers' of such situations.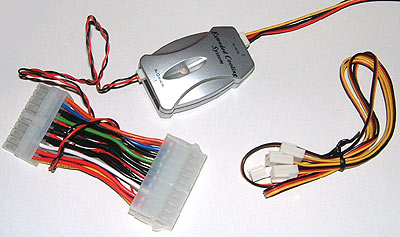 In any event, what the ECS does is keep the fans connected to it going for a few minutes after the power has been shut down to the rest of the PC.
The unit uses an adaptor that fits between the motherboard and power supply 20-pin ATX power connector to supply itself with 5V, and keep up to two case fans powered up for an additional 5 minutes. Since fans run at 12V, and the Evercool ECS supplies 5V, the fans naturally run slower than normal.
There is no way to shorten or lengthen the time the fans will remain powered up after the computer shuts down incidently.
The Evercool ECS features a pass through so that fans which are normally connected to the motherboard can still be connected there as well. All the ECS circuitry does is basically provide an additional 5V source of power when the computer is turned off, and that keeps the fans spinning a little longer.
It the Evercool ECS is really necessary? No, I don't think so, but necessity never stopped consumers from purchasing things that bring them "piece of mind."