Thermalright SLK-900A Copper Heatsink Review
---
This is the Thermalright SLK-900A... it is one of the biggest, toughest, and potentially quietest heatsinks in Thermalright's lineup.... what, did I say "quiet?" Well the truth of the matter is that dropping a 38x92x92mm fan on the SLK-900A spinning away at 6000RPM really offers no real challenge. I could put that same high speed Delta fan on the cardboard box the SLK-900A comes in and it would probably keep an AthlonXP at room temperature too! (Warning: cardboard will not keep your AthlonXP from instantly overheating and destroying itself :-)
The SLK-900A ships without a fan, but that flexibility allows you to determine just how loud and annoying the heatsink will be, and since the computer industry is gravitating towards quieter heatsinks we chose a stock 25x80x80mm fan for this review. The Thermalright SLK-900A arrives in a rather inconspicuous small cardboard box with a pile of wire clips that allow it to be paired with the following fan sizes; 92x92x38mm, 92x92x25mm, 80x80x38mm, 80x80x25mm, 75x75x15mm, 70x70x25mm, 70x70x15mm, and 65x65x15mm.
I'd recommend choosing the largest and quietest fan you can, but if you're only looking for overclocking results than shoot for the 92x92x38mm variant, and don't forget the earplugs. Seriously. For this review, we'll be testing the SLK-900A with an 80x80x25mm Zalman PS92252H fan which is better known for its low noise characteristics.
Heatsink Specsheet:

Model: SLK-900A
Fan: 2500RPM, 12V, 0.13A
Fan Dim: 25x80x80mm
Heatsink Dim: 96x59x44mm (W/O fan)
HS Material: Copper Sheet and Copper plate.
Weight: 527g

Sold By: www.thermalright.com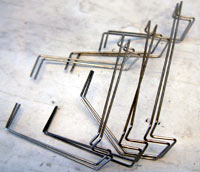 Fans are held in place on the Thermalright SLK-900A by two springy wire clips (different sizes hold different sized fans). The clips hook into little holes cut into the copper fins of the heatsink. There are four different positions, and with the three sets of clips, that means just about any size or width of fan will fit on the SLK-900A.
A small set of foam stand offs are also included which you can stick to the bottom of the heatsink to help prevent the AthlonXP's silicon core from being chipped during installation.
The heatsink weighs over 500g, thanks in part to the Toblerone shaped central copper base. And unlike most other heatsinks, the fins are actually not attached to a base plate per say... rather, they are soldered to the two sides of the triangular copper slug that runs down the center of the SLK-900A - a design which has proved very effective in previous tests.