Titan TTC-D9TBCu35-R1 Copper Core Heatsink Review
---
We've seen quite a flurry of activity from Titan in recent weeks, with many new mainstream heatsinks hitting the streets. The TTC-D9TBCu35-R1 breaks from this mold slightly, and offers consumers a low-noise cooling solution for mainstream PCs. The large 35mm thick 80x80mm fan produces barely a whisper of noise as it calmly exhausts air down into the many aluminum fins of the heatsink. To further improve thermal performance of this heatsink given the low amount of air being moved by the fan, Titan have imbedded a small 35mm diameter copper disc in the base of the heatsink.
Copper is one of the most popular ways for heatsink manufacturers to give their cooler a little extra kick when it comes to improving thermal efficiency. Whether or not this helps the Titan TTC-D9TBcu35-R1 stand up to the other low noise heatsinks in our reference list remains to be seen, but at just 37.6 dBA, we can already tell you this heatsink is very quiet indeed.
Heatsink Specsheet:

Model: TTC-D9TBCu35-R1
Fan: 2300RPM, 12V, 0.13A
Fan Dim: 35x80x80mm
Heatsink Dim: 77x82x80mm
HS Material: Extruded Aluminum and copper insert.

Sold By: www.titan-cd.com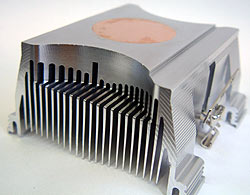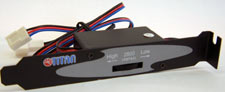 Like all Titan heatsinks we have tested in the last few weeks, the TTC-D9TBcu35-R1 comes bundled with its own PCI bracket fan speed controller.
Since the controller has jacks for a standard 3-pin fan connector and fan can be used with it, and if you'd rather put it aside that will also work. The heatsink and the fan speed controller are two separate items so unlike other coolers, you can leave it out of your PC should you wish to.
Reaching around back of the PC to adjust the fan speed is not going to be fun to do all the time, but if you install it the bracket, check for noise levels, and then make your adjustments you can pretty much just forget about it altogether. In any case, while the location for mounting the fan speed controller may not be convenient, it is a pretty good little unit, and seems rather well made all things considered.