Spire SPA04B4 WhisperRock IV Copper Core Heatsink Review
---
The low-noise Spire 5PA04B4 AthlonXP heatsink supports an 80mm fan, but slims down to just a 60mm x 60mm footprint so it is easy to install. The inward curved shape of the heatsink means that noise levels can be kept under control thanks to the large 35mm thick fan above, while still maintaining the profile necessary to make it mountable on a socket A. Were the heatsink 80mm wide at the base it would certainly interfere with adjacent capacitors and other board mounted devices, making it useless.
In an effort to further enhance the efficiency of the cooler, a 30mm diameter copper disc has been set into the base. If done properly, the copper disk will ultimately increase the surface area of the heat source as it interfaces with the rest of the aluminum heatsink. With a quiet fan and copper base does the Spire SPA04B4 have what it takes to become a useful low noise heatsink, or is simply unfit for serious duty? Read on and find out!
Heatsink Specsheet:

Model No.: SPA04B4
HS Material: Extruded aluminum with, copper base insert
Fan: 2300 RPM, 12V, 0.09A
Fan Dim: 25x80x80mm
FHS Dimensions: 80x80x71mm
Made by: Spire

Sold By: www.spirecoolers.com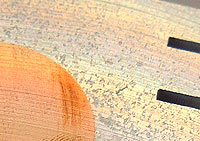 Flat and smooth base finishes are one of the prime examples of what to look for in a heatsink. The Spire SPA04B4 has a rather nice machined base - one so flat you can even see the individual crystaline structure of the extruded aluminum if look close enough.
Where most heatsinks are squeezed out from pretty common dies, the Spire SPA04B4 goes one step further and modifies standard extrusion techniques with a one of the major advances we have seen in recent times; the triangular base.
The only real problem may be that for the triangular base to really work, the fins have to be oriented in the opposite direction, which they are not. Still, for an impingement heatsink setup, it will be interesting to see what effect the raised central base and copper core insert ultimately play in the thermal efficiency of this low-noise heatsink from Spire.