Arctic Cooling Copper Silent 2 Heatsink Review
---
Arctic Cooling have developed what is perhaps the oddest looking fan we've seen in a long time... The Copper Silent 2 is AC's heatsink for the socket A platform, and what it lacks in sex appeal it makes up for in acoustic stealth. After all this is a very quiet heatsink, clocking in at barely 38 dB - remarkable considering the many loud heatsinks out there for AMD processors. The trick really is to make a heatsink thermally efficient without sacrificing acoustics. Noise levels are important, but if the heatsink doesn't cool very well then what use is it?
Arctic Cooling have created their heatsink with a rather unique spin on traditional fan design. The motor is suspended above the fan, and the impeller blades are positioned below, almost touching the tips of the aluminum fins.
Heatsink Specsheet:

Model: Copper Silent 2
Fan: 2200RPM, 12V, 0.10A
Fan Dim: 25x60x60mm
Heatsink Dim: 60x62x63mm
HS Material: C1020 Copper
Weight: 435 grams

Sold By: www.arctic-cooling.com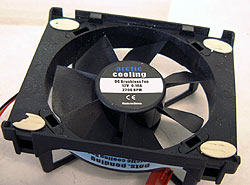 Four small foam rubber pads are placed so that they contact the heatsink directly and in an effort to prevent vibrations or rattling which could cause noise.
The cooler looks odd, and somewhat like an industrial fan used in ventilation situations. The inverted fan spins at 2200 RPM, blowing air down into the aluminum fins, and is reportedly designed this way to produce less of a hum.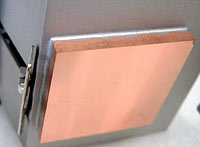 As if Arctic Cooling's Copper Silent 2 wasn't already unique enough, four foam rubber pads separate the plastic fan shroud assembly from the aluminum heatsink in an effort to further reduce potential areas of vibration.
Whether or not these little foam rubber pads are thick enough to actually absorb vibrations from an unbalanced fan motor is up for debate though.
On the base of the Copper Silent 2 is a big slab of copper, copper which has been soldered to the aluminum heatsink in an effort to further improve the overall thermal effectiveness of the cooler.