nPowerTek TTIC NPH-2 Heatpipe Heatsink Review
---
The first Thermal Transtech International Corp. heatsink we tested performed quiet admirably, and so it is with high expectations that we look upon the Socket A NPH-2 model now. The TTIC-NPH-2 heatsink is fairly unremarkable from the outside, but at the center sits a 25mm diameter copper heatpipe which gives the NPH-2 its charm.
The large heatpipe stands 100mm tall, and comes in direct contact with the processor core for optimal thermal efficiency. The "heat column," or heatpipe is based around a sintered metal wick, and for it to do its job must be able to disperse that absorbed heat energy some where.
For that, the nPowertek NPH-2 heatsink uses a set of 30 aluminium fins measuring roughly 70x65mm in size. The 25mm diameter heat pipe passes up through the center of each of the 0.5mm thick aluminum fins, transferring the heat energy to them in the process. A single 70mm fan provides the necessary airflow to move the heat from the fins to the surrounding environment, and hopefully keep the processor running cool.
Heatsink Specsheet:

Model: TTIC NPH-2
HS Material: Aluminum fins, copper heat pipe
Fan: 3600 RPM, 12V, 0.28A
Fan Dim: 15x70x70mm
FHS Dimensions: 97x86x77mm
Weight: 400gram
Made by: nPowerTek

Sold By: www.npowertek.com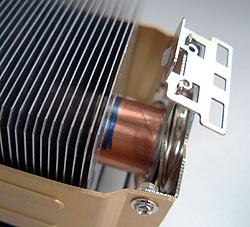 The TTIC "Heat Column" used at the center of the NPH-2 is 25mm in diameter, and 100mm tall.
If you don't alreay know, heatpipes are really interesting little devices. Heat energy from the processor reaches the heatpipe, which is basically a hollow copper cylinder, sealed at both ends, with a small amount of liquid inside under a vacuum.
The 'working fluid' as it's called, absorbs the latent heat which causes it to boil and undergo a phase change into water vapour. In our daily lives, water boils at 100C, but as pressure is decreased the temperature gradient required to cause water to boil also drops. The small amount of water inside easily converts to water vapour as the temperature of the evaporator end of the heatpipe increases.
The vapour is subsequently drawn to the cooler end of the heatpipe, and since that side is cooler, it condenses. As the hot vapour cools back into liquid, the heat energy that it previously stored is transferred to the surrounding apparatus (the heatpipe wall, and the fins which are in contact on the outside) on the condensation end of the heatpipe.
The condensed vapour, now working fluid once again, is drawn back to the hot evaporator end of the heatpipe by capillary action along an internal sintered metal wick structure which is porous. As the liquid reaches the hot end once more, the entire process repeats.

Heatpipes are a closed loop process that work within certain temperature ranges, for example 30C - 80C degrees. If the differential between the hot and cool sides becomes too low (say for example, each side reaches 85 degrees) the system can stall.