Tocools Novasonic-AlCu Heatsink Review
---
This fall I had the chance to see just how pervasive heatsink replicas are. While attending Computex 2003 in Taipei, is was not surprising to see the exact same heatsink being sold under two or three different brand names, and by several high volume manufacturers as well. It became pretty obvious that the only way companies can maintain control over their unique cooler concepts is to manufacturer them in house.... Bearing that in mind, in this review we'll be testing out a brand new heatsink from the Korean heatsink manufacturer, Tocools.
The Novasonic-AlCu is a large Socket A heatsink (rated for AthlonXP 3200+ and higher) built primarily from a machined block of extruded aluminum. Tocools have ingeniously created a triangular base within the heatsink by machining the individual fins from the raw aluminum in such a way as the central area peaks to 20mm - in effect creating a Toblerone down the center of the Novasonic-AlCu.
Tocools call this technique the "copper pyramidal core," being that a triangular copper insert has been soldered into the base so that it comes in direct contact with the core of the processor. The next step in the evolution of the Novasonic design will be an all-copper cooler, but we may have to wait a little longer for that Athlon64 heatsink to materialize. ;-)
Heatsink Specsheet:

Model No.: Novasonic ALCu
HS Material: Machined aluminum extrusion, copper base insert
Fan: Delta, 4500 RPM, 12V, 0.51A
Fan Dim: 25x80x80mm
FHS Dimensions: 79x74x80mm
Made by: Tocools

Sold By: www.tocools.com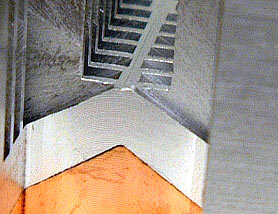 There are several very popular and frankly, cheap, ways of attaching copper base inserts to an all-aluminum heatsink. Bolts, glues, thermal compounds and similar methods rank very low on our list as acceptable options. Apart from Cold Gas Dynamic Spraying (CGDS) technology, Tocools employ another fairly acceptable method, which is to plate the aluminum base with nickel, which then allows the manufacturer to bond the copper directly to the rest of the aluminum heatsink with a tin-based solder.
After all, if the heat energy being absorbed by the triangular copper base isn't actually being transferred to the aluminum portion of the heatsink effectively, then what's the point of the copper base in the first place?
The triangular area at the center of Tocool's Novasonic-AlCu heatsink measures approximately 66mm wide at the base, and 20mm tall. As exhaust air from the fan travels down into the heatsink fins, it is directed out, and away towards either side of the base. This design method really seems to help make the Novasonic-AlCu pretty effective considering the 25x80x80mm fan on board.