Jetart JAP416A Pentium 4 Heatsink Review
---
Earlier this year Vantec released a rather unique heatsink which had been made by cutting fins from a solid chunk of extruded aluminum. That heatsink performed rather well as I'm sure you already know, and so when we began testing the Jetart JAP416A we had similar expectations of thermal performance.
What makes the cut fins of Jetart's design so special is that they have all been make with a 1mm thick circular blade so that the bottom edge of each cut tapers out with a graceful curve. The reason for the curve is simple, contrary to a straight 90 degree bottom edge, the curved slope redirects the exhaust air out and away from the sides of the heatsink.
By moving warmed air away from the heatsink, Jetart are able to maintain a very efficient thermal system where cold air enters the fan, and warm air is exhausted out, and away into the system. This system can also help to ensure that air velocity within the fins is kept up; though such factors can be easily influenced by adjacent obstacles.
Heatsink Specsheet:

Model: JAP416A
HS Material: aluminum
Fan: YS-Tech 5400 RPM, 12V, 3.06W
Fan Dim: 25x70x70mm
FHS Dimensions: 83x73x62mm
Weight: 480g
Made by: Jetart Technology

Sold By: www.jetart.com.tw
The heatsink body itself is no more than 40mm tall, but with the number of fins which have been cut into it, it should have sufficient surface area to support mainstream Intel Pentium 4 processors. The cuts average about 30mm deep at the top, but slope out to 21mm at the base.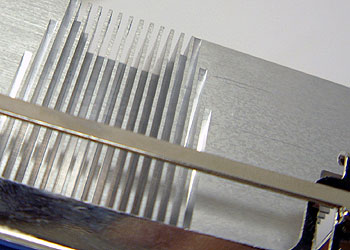 The heatsink is a little blocky, but by that I don't mean it is too square. Typically, fins whose tips are squared off offer more resistance to airflow than those which are pointed, or very thin. The manufacturer has included a 4mm high plenum to help improve airflow from the fan, down through the fins.