Cooljag CJC66IC-A Copper Pentium 4 Heatsink Review
---
The secret of the Cooljag CJC66IC-A heatsink does not reveal itself until the fans' intake air reaches elevated temperatures, and once that happens, the full speed of the fan kicks in and rapidly adds extra airflow to cool the copper skived fins below.
With the aid of a thermistor sticking out the side of the fans' motor, the Everflow fan can ramp up in speed from a whisper-quiet 1300RPM to a rather loud 6000RPM. At full blast, vibration can start to be an issue.
The fully copper skived heatsink features fins of 0.6mm thickness, on a 2mm pitch, but what really makes the CoolJag CJC66IC-A stand out is the copper base. Machined in four places are relief cuts which have removed a 17mm x 26mm swath in each of the four corners. The reason for this?
Heatsink Specsheet:

Model: CJC66ICA
HS Material: Skived Copper, C1020 Copper
Fan: Everflow, 1300-6000 RPM, 12V, 0.40A
Fan Dim: 15x70x70mm
FHS Dimensions: 55x83x69mm
Weight: 586 grams
Made by: Cooljag

Sold By: www.cooljag.com
The cuts in the copper base not only lighten the load of the entire 586g heatsink, but also help to promote some airflow down into the area below the heatsink itself - further cooling the processor below to some degree.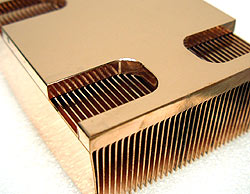 The 5mm thick copper base still has enough material to fully contact the heatspreader of the Pentium 4 processor, and the cuts are unlikely to cause any structural difficulties.