Auras T6C Pentium 4 Heatsink Review
---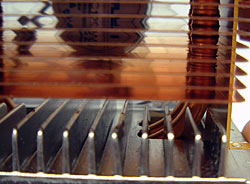 When it comes to a new heatsink from an obscure company, it never pays to assume anything.
Long ago when FrostyTech first reviewed a Zalman heatsink, who would have ever thought low-noise heatsinks could have come so far, so quickly? Good manufacturing and inventive design are the hallmarks of the cooler business, and newcomer Auras has a lot to prove in a field which is already bursting at the seams with "extreme" this and "arctic" that.
Auras may have a leg up on the competition as they set forth introduce their heatsinks through online retailer, iocombo.com. Copper, a favourite material for it low thermal resistance, and heatpipes, come together in a rather surprising way.
Sure we've all seen consumer heatsinks that feature heatpipes for added cooling, or sometimes just added effect, but what makes the Auras T6C stand out is the way the heatpipes are used...
Heatsink Specsheet:

Model: CoolEngine - T6C
HS Material: copper, nickel-plated cast Aluminum, heatpipes
Fan: 3800 RPM, 12V, 0.4A, blue LEDs
Fan Dim: 15x70x70mm
FHS Dimensions: 78x69x83mm
Made by: Auras Technology

Sold By: www.iocombo.com
A traditional heatsink with a pair of heatpipes impinged on a set of fins, copper or aluminum, typically has a base of between 4-6mm thick. The Auras T6C comes equipped with a copper plate only a fraction of that thickness.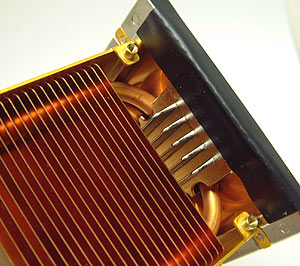 The idea as we can gather, was to provide a firm enough base for the heatsink, but not one which was so thick as to distribute the heat from the Intel Pentium4 core too far from the twin 6mm diameter copper heatpipes which run through the center of the heatsink. Whether this is an effective strategy, or not, we'll have to wait for the thermal results a little later in the review to know for sure.