Verax P16Cu Silent Pentium4 Heatsink Review
---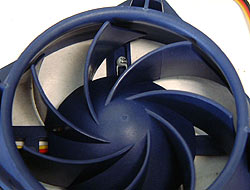 Now gather round and listen closely, what do you hear? Do you hear a multitude of fans inside your computer spinning away as they stem off miniature silicon meltdowns? If that's a big 10-4, just try and imagine a time when your computer might be virtually silent, even with fans spinning. Thanks to a company called Verax GmbH, that dream is a reality right now, though the CAIRdB line of fans aren't necessarily what you'd ever expect.
With a background in fluid engineering, Verax have created a series of thermally controlled zero-noise fans that look like little nuclear submarine props. The trend setting impeller of the fan works by accelerating air between its blades evenly, over a substantially longer distance than standard vaneaxial fans. This keeps turbulent noises down as the impeller rotates counter-clockwise - totally opposite to that of traditional vane axial fans.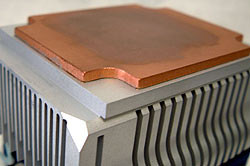 An embedded thermistor in one of the motor support struts samples air temperature continuously and lets the fan respond as case temperature increases; from 1400RPM - 3500RPM over a temperature range of 20-45 degrees Celsius.
We've been critical of the thermistor placement on the CAIRdB fans, especially when they are used on heatsinks, so as with all previous Verax heatsink reviews we gently popped the thermistor out of its cavity and bent it over so it would be closer to the actual aluminum fins of the heatsink for testing. Since this is a thermally responsive fan, the sound levels increase to near 40dB from 31dB at max RPM - and that's still damn quiet!
The other very interesting bit of technology on the Verax P16Cu revolves around the copper base plate, and how it has been attached. Termed, Cold Gas Dynamic Spray (CGDS) technology, it is superior alternative to nickel-plated aluminum, or bolting on the copper base plate with a thermal paste interface. More on this in a bit though.
Heatsink Specsheet:

Model Name: P16Cu
Fan Specs: CAIRdB TYP80251235-KP2, 1400-3500RPM, 18CFM, 12V, 0.75A.
Fan Dim: 25x80x80mm
Heatsink Dim: 96x70x80mm
HS Material: Extruded Aluminum, copper
Weight: 480grams
Mfg by: Verax GmbH

Sold By: www.veraxfans.com
As if that isn't enough already, the temperature sensitive Verax 80251235-KP2 CAIRdB fan is virtually silent under power, and is even held in place on the aluminum heatsink with four vibration dampening rubber posts.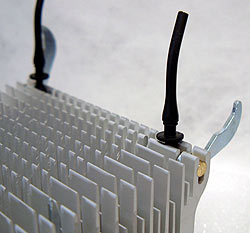 The rubber posts lock into the fan, and support it a millimeter or so above the tips of the aluminum fins. In this respect, any vibrations in the fan are absorbed for the most part instead of being transmitted through to the rest of the computer chassis.