Vantec Nexus NXP205 Fan-Controller Review
---
The original Vantec Nexus NXP201 fan controllers took up one whole 5.25" bay and brought speed control of up to four fans with a nifty blue LED backlit dial. They were blue, they were cool, but they were just too large. Coming in either black or silver aluminum, the panels looked sleek and worked nicely at controlling the fan speed of case fans.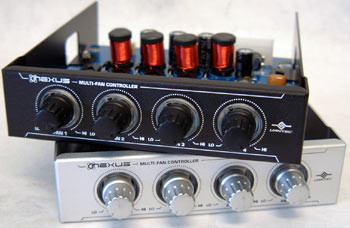 Well, that was then and this is now - enter the 3.5" Vantec NXP205 Fan controllers. The NXP205 fan controllers maintain the four dials with blue LED black lights, but this time around the package is much smaller.
Packed into a standard 3.5" FDD frame, this fan controller allows the user to adjust the speed of up to four case fans via responsive dials accessible from the front of the computer.
The panels come in either black or silver, and blend in equally well with all black cases as they do with aluminum ATX enclosures.
Each of the for channels are rated for 18W of power at 12V DC. To control the RPMs of fans, the potentiometers adjust voltage from 7V-12V.
The 3.5" frame for the NXP205 is made from aluminum, and comes a nice matt finish. The silver version of the NXP205 looks really nice, and would go really well with any aluminum case. I'm partial to the black version myself.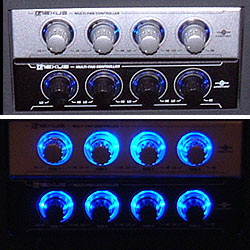 The NXP205 comes with mounting screws, a molex-to-molex power cable and (4) 22" molex-to-fan power cable adaptors.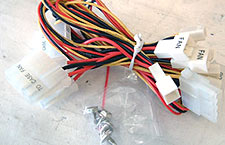 The fan power cables can be used with either the 3-pin connector, or the molex power connector, but not both.
In each case, the NXP205 supplies between 7v-12v depending on the dial position.
The Nexus NXP205 supports four channels of 18W each, so this unit can be used with Vantec's own Tornado fans without worry of blown circuits.
Fans simply plug into the units standard 3-pin fan headers - so there is no wire cutting involved. The Vantec Nexus NXP205 itself draws all its power from one Molex connector.
Installation is a breeze, the unit simply fits into a standard 3.5" bay with the two first mounting screws to hold it in place.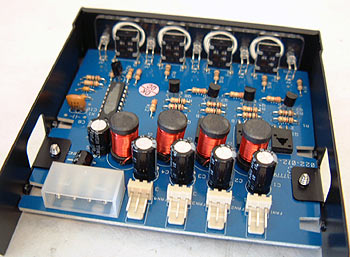 Vantec have managed to create a nice looking accessory which is both useful and well designed. Where fan controllers used to be the realm of overclockers and case tweakers only, Vantec have brought it to the mainstream, and all while maintaining the good looks we've come to demand.