Arkua Q85X7J Heatpipe Pentium 4 Heatsink Review
---
Heatpipes have been finding their way into more and more heatsinks for a couple of very good reasons. They are very efficient at moving thermal energy, so heatpipes allow designers to try new things, and that helps to distinguish their product in a sea of other designs. Heatpipes have also come into their own for practical reasons. By orienting the fins of a cooler parallel to the base there is a clear path for air to enter, and then leave the fins with a minimum of noise inducing turbulence, or back pressure. Less forceful fans can be used in situations such as this to maintain the cooling level, with a third, or even half as much noise as a traditional impingement orientation may create.
The challenge then becomes not noise production, but maintaining the thermal efficiency of the heatsink as a whole. Once the fins are moved away from the base of the heatsink the equation becomes somewhat more complicated than a standard skive or extruded heatsink. All of a sudden there are joints where the heatpipe interfaces with the base, and the fins, to worry about. If the manufacturer doesn't join the components correctly we're left with a heatsink that can't do its job.
Take for example the old Coolermaster CH5-5K12 heatpipe heatsink from a few years ago. This little socket A cooler was impressive for its radical design, but the heatpipes interfaced with a copper base via thermal epoxy. That is one avenue some designers have had to go, but when it comes to decreasing thermal resistance at each interface, and improving thermal conductivity, solder is currently the best option. Take for example the CPUmate DIA10500 heatpipe-based Pentium 4 cooler. The CPUmate had each interface where the heatpipes joined up with the main body nicely soldered in place. The tough part for the manufacturer was ensuring then that the solder flowed properly, leaving no voids in the joint.
The Arkua Q85X-7J we are examining today is based on similar principals to the CPUmate cooler, but looks essentially like a suped-up Coolermaster CH5-5K12 heatsink.
Heatsink Specsheet:

Model: Q85X-7J
HS Material: Aluminum, heat pipes
Fan: 3500 RPM, 12V, 0.12A
Fan Dim: 15x70x70mm
FHS Dimensions: 92x84x83mm
Made by: Arkua

Sold By: www.arkua.com.tw
Arkua have in the past produced very finely finished heatsinks based on a single design philosophy, but the Arkua Q85X-7J breaks down both of those constants. The Q85X-7J is a radical departure for them (and hopefully an improvement further still), though it is finished rather roughly. Where we were once greeted by razor sharp machined heatink baseplates, the Q85X-7J is sanded slightly rough and not all that level.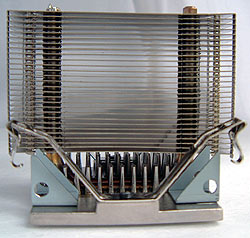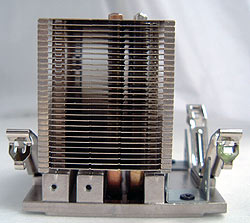 As you can tell, the base is a cast aluminum part which has been nickel plated so that solder can be used. The two copper heatpipes are positioned such that they are almost directly overhead of the Pentium 4 core.