Spire SB420B8 CopperStream P4 Heatsink Review
---
Spire are an interesting cooler company because they produce such a wide variety of heatsinks. For example, some past models have been pretty poorly finished and capable of only moderate performance at best. Recent models have made significant improvements on quality control standards, and better designs have improved thermal performance greatly.
Take for example the SB420B8 below; this is an interlocking copper fin heatsink with an aluminum shroud (don't be fooled by that copper-coloured anodizing). The fins come off the assembly line interlocked with one anther via small tabs and the entire fin assembly is soldered to the copper base plate.
Sitting on top of it all is a 25mm thick 70mm fan that hums away rather quietly.
Heatsink Specsheet:

Model: SB420B8
HS Material: Copper, Aluminum
Fan: 2500 RPM, 12V, 0.08A
Fan Dim: 25x70x70mm
FHS Dimensions: 62x83x68mm
Made by: Spire

Sold By: www.spirecoolers.com
As we mentioned just a second ago, the method used to attach the thin copper fins to this 3mm thick copper base relies upon the fins interlocking with one another. We first saw this method displayed by a company at Comdex 2000, and since then it has become very popular, no doubt because it involves stamped fins made from inexpensive sheet copper.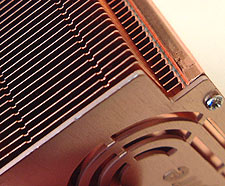 To keep costs (and weight) down the copper-fin and base assembly is protected with an anodized aluminum fan shroud. The aluminum fan shroud it attached with a few screws to the base and provides the necessary stand off above the fin tips for proper air flow as well.