Spire SP411C5 QuieTude II Heatsink Review
---
Where do heatsinks come from? A simple question to be sure (they come from a factory), but I often find it rather remarkable just how spread out around the world most heatsink manufactures are. Take for example Spire. Spire's offices are in the US, Taiwan and the Netherlands, but the heatsinks are manufactured in China.
The Pentium 4-based Spire SP411C5 has traveled far to come to the FrostyTech test labs, so let's not postpone the evaluation further! Sitting in front of us we have a m478 heatsink designed to cool the processor with a moderate amount of noise, scaling fan RPM as things heat up. At 300RPM the SP411C5 is good in the noise department, but at higher temperatures it can get somewhat loud.
Chances are, with good case ventilation most computers will never reach this high-RPM plateau, but after a few hours of gaming you never can really tell for sure. In any case, the SP411C5 comes packing a 45mm copper disc which has been inserted into the base to improve thermal conductivity between the processor and the rest of the heatsink.
Heatsink Specsheet:

Model: SP411C5
HS Material: Extruded aluminum, copper insert
Fan: 3000-5500 RPM, 12V, 0.40A
Fan Dim: 25x70x70mm
FHS Dimensions: 78x90x47
Made by: Spire

Sold By: www.spirecoolers.com
To keep the SP411C5 in place on the m478 HSRM, Spire have opted for a rather unique means of mounting the heatsink. It still sits in the plastic HSRM of course, but rather than clumsy clips it uses a set of integrated spring tensioned grabbers to lock in.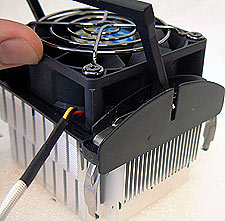 With the flick of a lever 180 degrees the heatsink grabs on to the plastic HSRM and locks in. Heck, the SP411C5 even arrives with pre-applied white silicon thermal compound applied to the base so installation is quick, easy, and literally just a snap.