Evercool NW9F715CA Pentium 4 Heatsink Review
---
Countless heatsink designs have been cast into aluminum in an effort to meet the requirements of both low cost and high thermal efficiency. Aluminum extrusions have typically been the most popular option, and with the need to satisfy performance users, copper inserts have become a frequent addition.
Evercool have recently released the NW9F715CA heatsink which is designed for the socket 478 platform. The heatsink breaks with tradition and features an extruded aluminum heatsink with soldered-in copper base insert. The heatsink and fan are separate units, with the clipping mechanism and fan coming as one entire assembly.
Because of the way the clip and fan are assembled, the heatsink is limited in the size of cooling system it can support. Unless a 70mm-80mm fan adaptor is at hand, 70mm fans are the largest that any user will be able to use with the Evercool NW9F715CA cooler.
Heatsink Specsheet:

Model: NW9F715CA
HS Material: Aluminum extrusion, copper base
Fan: 3500 RPM, 12V, 0.18A
Fan Dim: 15x70x70mm
FHS Dimensions: 83x69x37mm
Made by: Evercool

Sold By: www.evercool.com.tw
In our time we have seen many methods of attaching copper base plates to aluminum heatsinks. Some manufacturers plate the aluminum with nickel and then use that as a basis to solder on the copper. Other have used screws, white silicon compound and a bit of force to manually attach the copper plate to the base of an extruded heatsink. While the first example actually worked rather well in the end, the latter proved to be a thermal nightmare.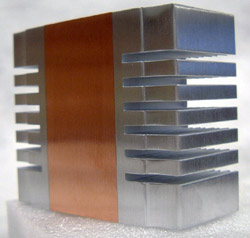 Since the copper base plate is what actually comes in contact with the processor (and hence all the heat), if there isn't an effective thermal interface between it and the aluminum all is for not. Sure the copper baseplate is more thermally conductive, but if that heat energy isn't actually being transferred to the aluminum portion of the heatsink over a larger surface area then what is the point?
To work well, a copper base insert must make perfect contact over its' entire surface area with the aluminum heatsink. How the Evercool NW9F715CA performs will depend on this small interface entirely.