Thermalright SLK-900U Copper Heatsink Review
---
The full copper 587 gram Thermalright SLK900U is one mean 'little' cooling machine. It looks somewhat like a Toblerone which has gone through the "six million dollar man" program and has the attitude to back that up. The Thermalright SLK900U heatsink arrives in a rather inconspicuous small cardboard box with a pile of wire clips, screws, springs among other parts. The heatsink comes sans fan, but that flexibility allows you to determine just how loud and annoying the heatsink will be, and choose the best parts for the job.
Judging by the way Thermalright heatsinks tend to get snatched up by performance cooling freaks, the 80mmx38mm Vantec Tornado fan was our first cooling choice. Blasting off with over 67dB of noise, this fan spins at a finger-cutting 5700RPM so do yourself a favour and find a way of installing a fan grill on this puppy that actually works with the Thermalright's fan retention wire clips. I haven't got a solution to this oversight, but if you do, please let us know.
For low noise operation we selected Zalman's 92mm x 25mm thick ZM-F2 fan. It spins at about 2800RPM and creates a measly 46 dB of noise which is hardly noticeable. Given these two different sizes of fans, rotational speeds, and CFM output it will be interesting to see just how the Thermalright SLK900U reacts thermally!
Heatsink Specsheet:

Model: SLK-900U
HS Material: machined copper, copper fins
Fan: not included
FHS Dimensions: 45x84x99mm
Weight: 587 grams
Made by: Thermalright

Sold By: www.Thermalright.com
For starters I should mention that the Thermalright SLK900U will work with either socket 478 Pentium 4 processors or Socket A AMD processors as long as the motherboard has the heatsink retention holes in the PCB. Since this spec was removed from AMD's list of requirements, most socket A motherboards do not currently support this 'through hole motherboard mounting' feature anymore. Shown below are some of the wire clips for different sized fans, screws and other items the Thermalright SLK900U ships with.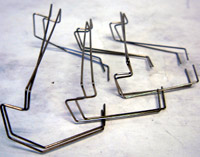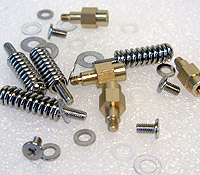 With that in mind, we will be testing the Thermalright SLK-900U on the socket 478 platform only. I believe the heatsink is better suited for this application anyway given the overall size and weight of it.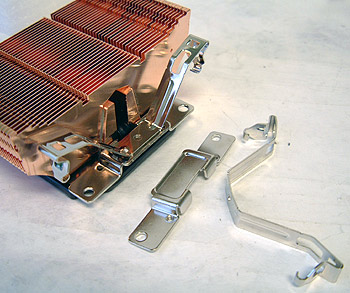 If the Thermalright SLK900U is going to be used with the socket 478 platform two small metal rests need to be attached with screws to the side of the heatsink. The metal rests form a platform for the socket 478 retention clip to press down on, and this keeps the heatsink from falling out of the HSRM.