JMC 400124 Phoenix 60 Radial Fin P4 Heatsink Review
---
Shiny aluminum always gets my attention, even when it's in circular form. JMC Products have recently released a few heatsinks on this same design guideline, and the JMC 400124 continues the Pentium 4 cooling tradition well while keeping acoustic noise at around 47 dB. The heatsink arrived for our testing with a full set of blueprints which gives us some detailed insight into the construction and manufacturing requirements applied to JMC's heatsinks. For example, the fan here is spec'd out at 100K hours MTBF.
Based on similar techniques which were used by Agilent Technologies for their Arcticooler heatsinks a while back, the JMC 400124 Phoenix 60 even carries the same logo. The original Agilent heatsink was made for socket 370 Pentium III processors, but this version is intended for use with socket 478 Pentium 4's or even Socket 603/604 Xeons. The unit we tested was configured for socket 478.
What makes the JMC Phoenix 60 so unique is that the heatsinks' fins are cut from a single cylinder of aluminum in a radial 360 degree pattern. A portion of the center of the heatsink is then cut away so that a 60mm diameter fan can be installed within the heatsink itself. With a ring of aluminum fins surrounding the fan, two separate air flow streams are created.
The first stream of air is drawn in through the fins at the top of the heatsink. After the air stream passes through the fan it is exhausted out by the lower portion of the fin. The area under the fan has been cut so that it is actually all fin surface, not simply solid material.
Heatsink Specsheet:

Model: Phoenix 60, 400124
HS Material: machined aluminum
Fan: 4500RPM, 12V, 0.21A
Fan Dim: 25x57x57mm
FHS Dimensions: 53x69x89mm
Weight: 331 grams
Made by: JMC Products

Sold By: www.jmcproducts.com
The basic construction of the Phoenix 60 consists of the main finned circular heatsink part being inserted into a flat aluminum base which is used to physically retain the cooler in a standard wire-clip socket 478 HSRM.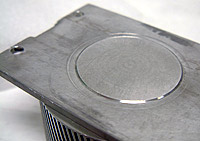 The edges of the base are slightly raised up as you can see, and this is to ensure the wire clips make good contact. The processor makes direct contact with the central finned core so there are none of the problems associated with a metal to metal interface. A small section of thermal compound comes pre-applied to the base.