JMC 400074 Skyjet 70 Radial Fin Heatsink Review
---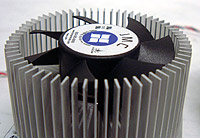 Just when you thought the "Orb" heatsink was dead, done and long since buried JMC revive life back into the design. This orb-like cooler goes by the name Skyjet 70, and it is now technically called an "extruded radial fin heatsink."
Capitalizing on the technology invented by Agilient long ago for the Arcticool heatsink, the JMC 400074 is a high volume adaptation that takes the best of "dual-pass airflow architecture," and puts it in a package ready for use on socket 478 Pentium 4 or socket 603/604 Xeon processors. The unit we tested was configured for socket 478 processors incidently.
From our standpoint the visual similarities between this radial heatsink and the obs of long ago are pretty superficial. Thermaltakes' orbs used very shallow fins, bent at an angle. This heatsink is designed more appropriately with 21mm deep fins. The main difference is that the area below the 67mm diameter fan impeller is not solid - it's pure fin. The fan is also actually mounted to the base, but we'll step over that point altogether for the moment.
Heatsink Specsheet:

Model: Skyjet 70 400074
HS Material: extruded aluminum
Fan: 5500RPM, 12V, 0.65A
Fan Dim: 25x67x67mm
FHS Dimensions: 55x78x83mm
Weight: 315 grams
Made by: JMC Products

Sold By: www.jmcproducts.com
The JMC SkyJet 70 works along these lines; the 67mm diameter fan is mounted inside a ring of thin extruded fins so that when the heatsink is in operation two separate air flow streams are created.
The first stream consists of air as it is sucked into the fan through fins at the top of the heatsink. The second stream is created as exhaust air is pushed out through the fins at the base of the heatsink. The internal geometry of fins is straight until they meet up with the base, which then connects at a 90 degree angle. Since the main finned section is actually press fit into a hole in the base plate it makes direct contact with the processor heatspreader.
A closer look at the heatsink in question will show you what I mean, so let's take a look now.