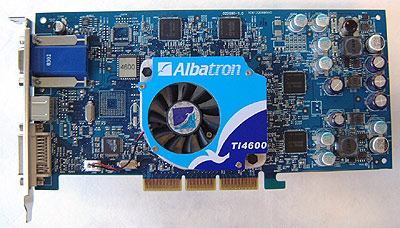 We took out the Albatron Geforce4 Ti4600 to test with the new Zalman ZM80HP videocard cooler. In its stock configuration the Albatron has the same kind of heatsink as most other Geforce 4's do, but it is a pretty raw cooler (there is not chrome plating). The first step in the installation procedure is to remove the stock cooler. Since there are no heatsinks on the BGA memory we didn't have to worry about that at all. The Zalman heatpipe cooler does give a bit of clearance, but not much.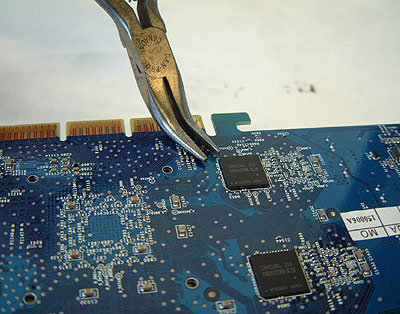 I've always found the easiest way to remove a Geforce 4 heatsink is to pinch in the end of the black clips which hold it onto the PCB. They have a slot cut in the center so when you gently squeeze them together they will be small enough to fit through the hole and release the heatsink.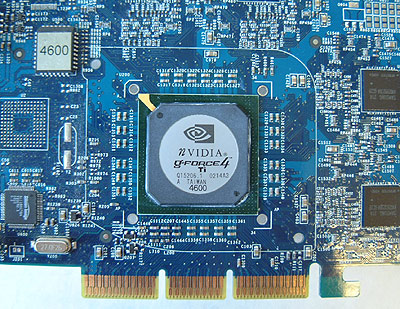 As with other Geforce 4 video cards on the market the Albatron Geforce 4Ti4600 has two diagonal mounting holes (upper left and lower right) and four other smaller holes right around the corners of the GPU. The Zalman ZM80HP will fit onto any video card with the diagonal holes. If the card doesn't have them (like the ATI Radeon 8500's) you are just plain out of luck.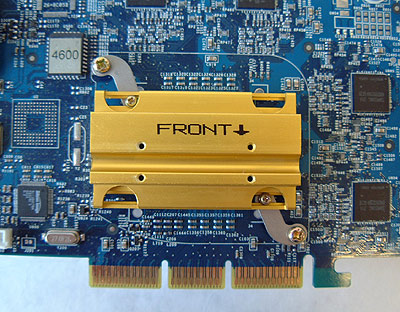 We applied some new thermal compound to the core and mounted the first component (Front Side Heatsink Base Assembly) of the ZM80HP in place. The two little metal arms are adjustable so you can move them into a better position if need be. Zalman include a small screw driver so you don't even need to have any of your own tools handy to make the adjustments. One thing to note is that you want to pretty much get the base assembly centered on the GPU and straight.