Thermal Integration Ti-T707TN Radial P4 Heatsink Review
---
| | |
| --- | --- |
| | Stick a nice big cylinder of copper into the center of a radial fin heatsink and you have one very unique Pentium 4 cooler. This type of design is very efficient since the exhaust air is also harnessed before moving on to the rest of the case. |
The Thermal Integrations TI-T707TN heatsink has a nice chewy 31mm diameter copper slug at its heart, and 70 very slender extruded aluminum fins in a radial pattern around the outside.
The fins measure just 0.5mm in thickness and are straight from top to bottom, with a gentle curve to the outside. For those of us who are familiar with big square heatsinks the TI-T707TN is a drastic departure, and kind of interesting to look at as well.
There are quite a few of companies challenging the traditional notions of what a heatsink should be shaped like, and for the most part these physical changes bring with them thermal and sometimes even acoustic advancements.
Thermal Integration are ISO9001 certified and while the breadth of heatsinks they produce is limited, the quality and finish tends to be good. Bases are either machined, or polished flat so it is obvious that the company is making an effort to satisfy performance users standards. The question is, does the TI-T707TN have what it takes thermally? After all, this is a heatsink with a thermally controlled fan which puts it more in realm of low-noise cooling.
Heatsink Specsheet:

Model Name: TI-T707TN
Fan Specs: 2500-5000RPM, 12V, 3.48W, 20-40CFM
Fan Dim: 25x70x70mm
Heatsink Dim: 84x71x63mm
HS Material: extruded aluminum, copper
Weight: 380 grams
Mfg by: Thermal Integration


Sold By:
The thermally controlled fan has a small thermistor sticking out of the base of the motor 5mm or so. The thermistor is not in direct contact with any part of the heatsink so it can only really sense ambient temperatures.
The thermistor is set to kick up the fans RPM from 2500RPM at 33C, to 5000RPM at about 43C. For this increase in speed to happen, the case temperature really is the factor. Since the thermistor is directly in the line of airflow from the fan, it will not be able to sense the temperature of the heatsink itself to determine if fan-speed adjustments are necessary.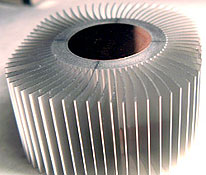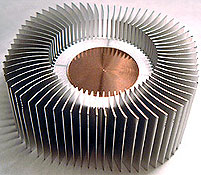 At low RPM's the fan is virtually silent (under 40dB), but at full speed the YSTech fan creates quite the racket (53dB). We tested the TI-T707TN under the low fan speed settings and also at the highest speed settings to see what kind of temperature differences we would get. The results were fairly dramatic, with an obvious performance increase at the louder fan speeds.
To attach the fan and clipping mechanism onto the heatsink by some mechanical means would be rather difficult given the odd shape of this heatsink so the manufacturer simply rests the entire assembly on top. The fan and clipping shroud are one unit, and simply sit on top of the fins while the clips put pressure on the entire assembly.