Taisol CCP445172 Copper Pentium 4 Heatsink Review
---
| | |
| --- | --- |
| | The one-piece folded copper fin is folded and soldered to the thick copper base. The entire heatsink then appears to have been plated with copper to provide a uniform appearance. Remember, what looks like many thin fins is actually just one piece of copper. |
There's a funny story behind this heatsink, and how it came into our hands to be tested (Starbucks @ Las Vegas) but I'm sure you've heard that one before so let's jump right into the review.
The Taisol CCP445172 is a full copper Pentium 4 heatsink sporting a manufacturer listed thermal resistance of just 0.329C/W and weighing in at nearly 700grams. This is a big heatsink, and one of Taisol's newest for the 3.06GHz Intel Pentium 4 platform.
The heatsink arrived in our hands with HSRM and metal backplate PCB support. Because the clipping mechanism is integral to the fan and fan shroud you are pretty much stuck with a 70mm sized fan. Some users like to drop in larger fans which can then be operated at slower (less noisy) speeds with hopefully little reduction in overall air flow. In this instance because the plastic fan frame plays a functional role with the clipping system that type of fan upgrade just isn't possible.
Heatsink Specsheet:

Model Name: CCP445172
Fan Specs: 530RPM, 12V, 0.52A, 46CFM, 2 ball bearings
Fan Dim: 15x70x70mm
Heatsink Dim: 95x77x69mm
HS Material: copper
Weight: 667 grams
Mfg by: Taisol


Sold By: www.taisol.com
If you could look closely enough at the 40 thin copper fins you would in fact find that they are all one thin sheet . The copper sheet has been punched out in a particular pattern, and then folded over to form one long fin assembly. In industry terms this type of heatsink is called a "folded fin heatsink", and it's a technology that has been around for quite some time now.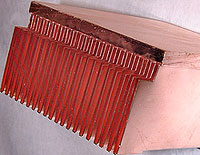 Each of the individual fin segments are roughly 32mm in height yielding a surprising large amount of surface area. The thick copper base has been brazed or soldered to the entire folded fin assembly so that heat energy is efficiently transferred - at least as long as the joints are sound.